NCBI GenBank
Hemitrygon fluviorum
(Ogilby, 1908)
Estuary stingray
Classification:
Elasmobranchii Myliobatiformes Dasyatidae
Reference of the original description
On new genera and species of fishes.
Proceedings of the Royal Society of Queensland, 21, 1–26
Image of the original description
No image in first description.
Synonyms / new combinations and misspellings
Amphotistius fluviorum, Dasyatis cf. fluviorum, Dasyatis fluviorum, Dasybatus fluviorum, Toshia fluviorum
Types
Hemitrygon fluviorum
Dasyatis fluviorum
Holotype:
QM
: I.235 (?)
Description :



Citation:

Hemitrygon fluviorum

(Ogilby, 1908): In: Database of modern sharks, rays and chimaeras, www.shark-references.com, World Wide Web electronic publication, Version 11/2022

Please send your images of
"Hemitrygon fluviorum"
to
info@shark-references.com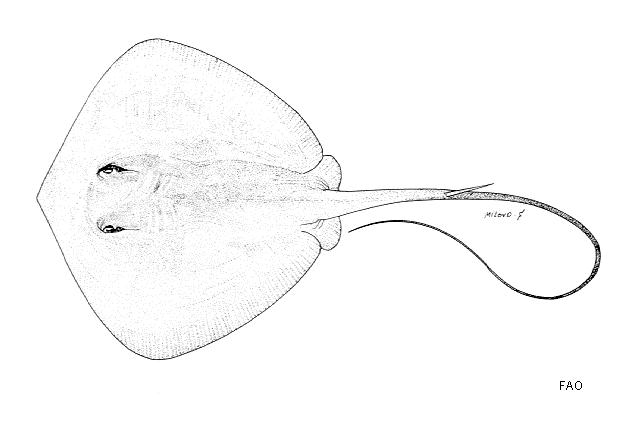 Hemitrygon fluviorum
(Ogilby, 1908) © FAO, www.fish-base.org
Common names

Brown stingray,

Estuary stingaree,

Estuary stingray,

River stingray
Distribution
Western Pacific: New Guinea and from the Northern Territory to northern New South Wales in Australia. Source:
www.gbif.org
Human uses
fisheries: minor commercial; price category: low; price reliability: very questionable: based on ex-vessel price for species in this family
Biology
Exhibit ovoviparity (aplacental viviparity), with embryos feeding initially on yolk, then receiving additional nourishment from the mother by indirect absorption of uterine fluid enriched with mucus, fat or protein through specialised structures
[733]
. Distinct pairing with embrace
[17086]
. Found in mangrove swamps and estuaries. Feeds on shellfish.
Size / Weight / Age
130 cm TL (male/unsexed; (Ref.
9840
)); max. published weight: 6,120 g (Ref.
40637
)
Habitat
benthopelagic; brackish; marine
Remarks
shark-references Species-ID=14616;
Parasites (arranged by Jürgen Pollerspöck)
Myxosporea
Monogenea
Cestoda
Copepoda