NCBI GenBank
Himantura australis
Last, White & Naylor, 2016
Himantura australis
Classification:
Elasmobranchii Myliobatiformes Dasyatidae
Reference of the original description
Three new stingrays (Myliobatiformes: Dasyatidae) from the Indo–West Pacific.
Zootaxa, 4147(4), 377–402
Description :



Citation:

Himantura australis

Last, White & Naylor, 2016: In: Database of modern sharks, rays and chimaeras, www.shark-references.com, World Wide Web electronic publication, Version 05/2023

Please send your images of
"Himantura australis"
to
info@shark-references.com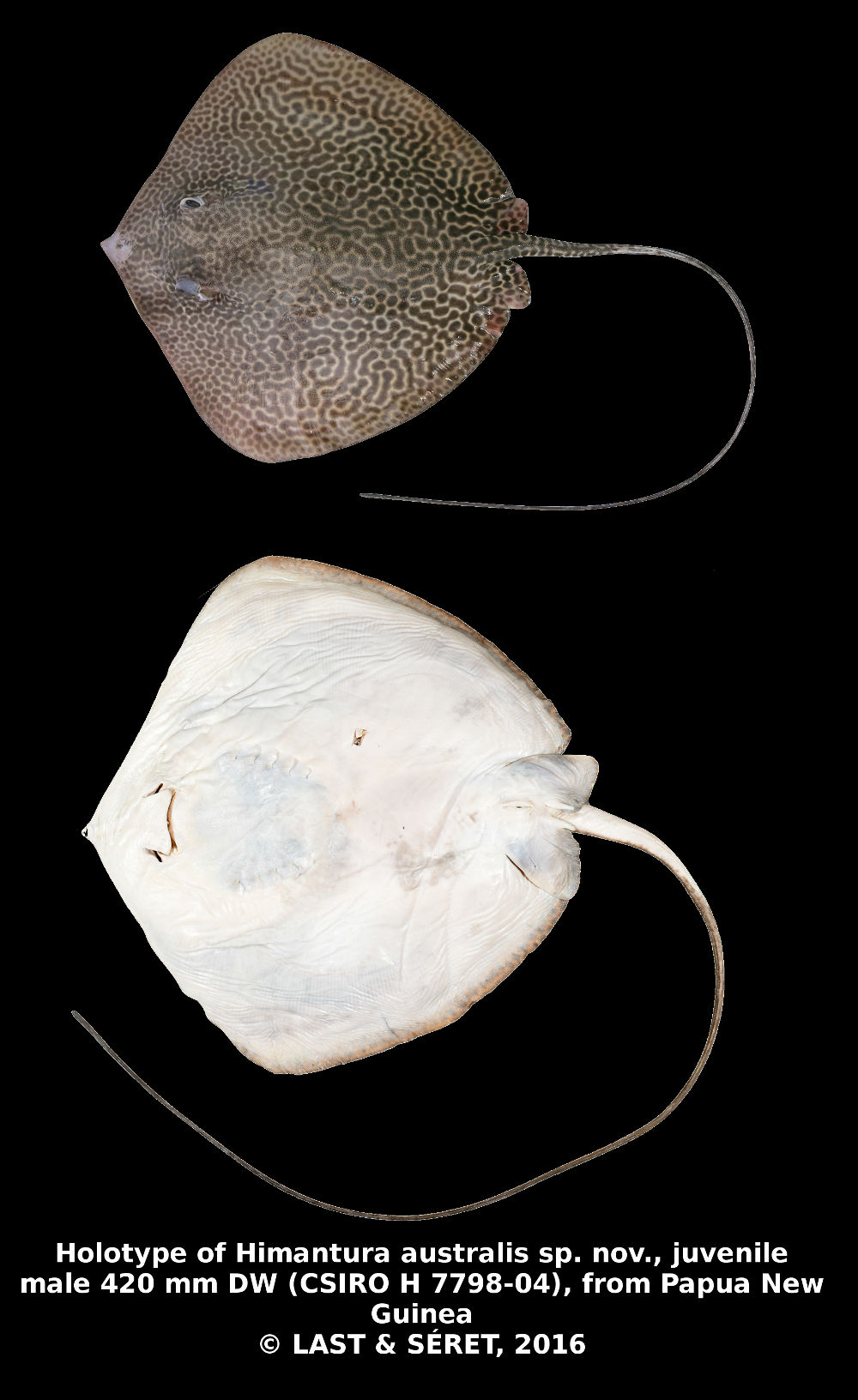 Holotype of
Himantura australis
sp. nov, juvenile male 420 mm DW (CSIRO H 7798-04), from Papua New Guinea © Last & Séret, 2016
Common names

Australian Whipray
Short Description
Original diagnosis after LAST, WHITE & NAYLOR, 2016
[24346]
: A species of Himantura distinguished by a combination of the following features: disc weakly rhomboidal; preorbital snout moderately short (length 19–22% DW), rather broad, angle 117–127°, with a distinct apical lobe; lateral apices narrowly rounded; orbits moderately large, often strongly protruding (particularly in young); 1–2, mostly heart-shaped suprascapular denticles (not preceded before and after by a row of smaller primary denticles); secondary denticle band developed before birth; dorsal surface of juveniles (smaller than 370 mm DW) dark spotted or with spots and weak reticulations, subadults and adults (exceeding 390 mm DW) more strongly reticulated; dorsal tail of juveniles with 3 rows of spots before caudal sting, faint dark saddles beyond sting (tail lacking alternating black and white bands); tail uniformly dark ventrally; pectoral-fin radials 146–152; vertebral centra (excluding synarcual) 123; including synarcual 124.
Distribution
off Papua New Guinea and northern Australia, from Shark Bay (off Western Australia) to Brisbane (off Queensland)
[24346]
Size / Weight / Age
late-term embryo 283 mm DW; TL max (female): 1400 mm DW
[24346]
Habitat
demersal; marine; depth range - 45 m
[24346]
Dentition
Teeth in a juvenile paratype (CSIRO H 4542-06) small, subequal in size in upper and lower jaws; narrowly rhombic with 1–2 low, transverse ridges on crown, ridges separated by prominent groove; ~59 vertical rows in upper jaw
[24346]
Remarks
shark-references Species-ID=14669;
Parasites (arranged by Jürgen Pollerspöck)
Cestoda