NCBI GenBank
Hypanus dipterurus
(Jordan & Gilbert, 1880)
Diamond stingray
Classification:
Elasmobranchii Myliobatiformes Dasyatidae
Reference of the original description
Notes on a collection of fishes from San Diego, California.
Proceedings of the United States National Museum, 3(106), 23–34
Image of the original description
No image in first description.
Synonyms / new combinations and misspellings
Dasibatis brevis, Dasibatis dipterura, Dasyatis brevis, Dasyatis dipterura, Dasyatis dipterurus, Dasyatis hawaiensis, Dasyatis hawaiiensis, Dasybatis dipterura, Dasybatis dipterurus, Dasybatus brevis, Dasybatus dipterurus, Trygon brevis, Trygon hawaiensis
Description :



Citation:

Hypanus dipterurus

(Jordan & Gilbert, 1880): In: Database of modern sharks, rays and chimaeras, www.shark-references.com, World Wide Web electronic publication, Version 06/2023

Please send your images of
"Hypanus dipterurus"
to
info@shark-references.com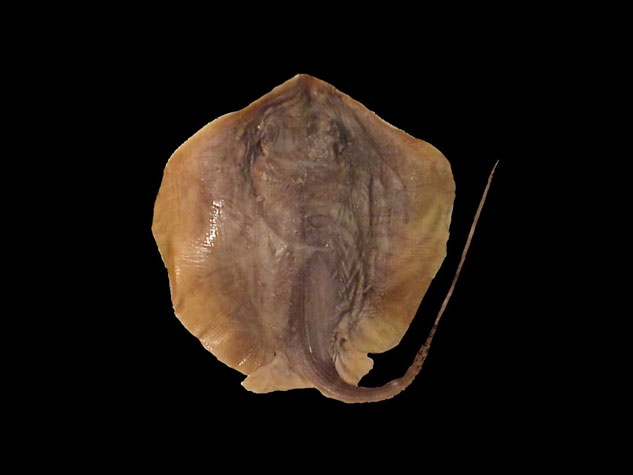 ID as Dasyatis brevis (Garman, 1880) synonym of
Hypanus dipterurus
(Jordan & Gilbert, 1880) © Centro Interdisciplinario de Ciencias Marinas (CICIMAR-IPN) http://coleccion.cicimar.ipn.mx
Common names

Batana,

Batea,

Raya diamante,

Raya látigo diamante,

Diamond stingray,

Hawaiian stingray,

Rat-tailed stingray
Distribution
Eastern Pacific: southern California, USA to Peru. Reported from the Galapagos Islands
[455]
. Occurrence in British Columbia, Canada remains questionable (Ref.
6885
). Not in Compagno"quot;s 1999 checklist
[529]
. Source:
www.gbif.org
Biology
Exhibit ovoviparity (aplacental viviparity), with embryos feeding initially on yolk, then receiving additional nourishment from the mother by indirect absorption of uterine fluid enriched with mucus, fat or protein through specialised structures
[733]
. Distinct pairing with embrace
[17086]
. Inhabits sandy areas, often around rocks and kelp beds
[17050]
. Benthic
[17640]
. Feeds on crabs and mollusks (Ref.
4925
). Mobile-invertebrate feeder (Ref.
57615
).
Size / Weight / Age
122 cm WD (male/unsexed;
[17050]
)
Habitat
demersal; marine; depth range 10 - 355 m
[17640]
Remarks
shark-references Species-ID=14625;
Parasites (arranged by Jürgen Pollerspöck)
Monogenea
Cestoda
Trematoda
Anaporrhutum euzeti Curran, Blend & Overstreet, 2003 [23771]
Prosorhynchus truncatus Verma, 1936 [23771]