NCBI GenBank
Hypanus guttatus
(Bloch & Schneider, 1801)
Longnose stingray
Classification:
Elasmobranchii Myliobatiformes Dasyatidae
Reference of the original description
M.E. Blochii Systema Ichthyologiae iconibus ex illustratum. Post obitum auctoris opus inchoatum absolvit, correxit, interpolavit.
J.G. Schneider, Saxo: 584 p., 110 pl.
Image of the original description
No image in first description.
Synonyms / new combinations and misspellings
Amphotistius guttatus, Dasibatis tuberculata, Dasyatis guttata, Dasyatis guttatus, Dasyatis gymnura, Dasyatis tuberculata, Dasyatis tuberculatus, Dasybatus guttatus, Dasybatus tuberculatus, Raia tuberculata, Raja guttata, Raja tuberculata, Trygon gymnura, Trygon jabebara, Trygon osteosticta, Trygon tuberculata, Trygon (Trygon) tuberculatus
Description :



Citation:

Hypanus guttatus

(Bloch & Schneider, 1801): In: Database of modern sharks, rays and chimaeras, www.shark-references.com, World Wide Web electronic publication, Version 11/2022

Please send your images of
"Hypanus guttatus"
to
info@shark-references.com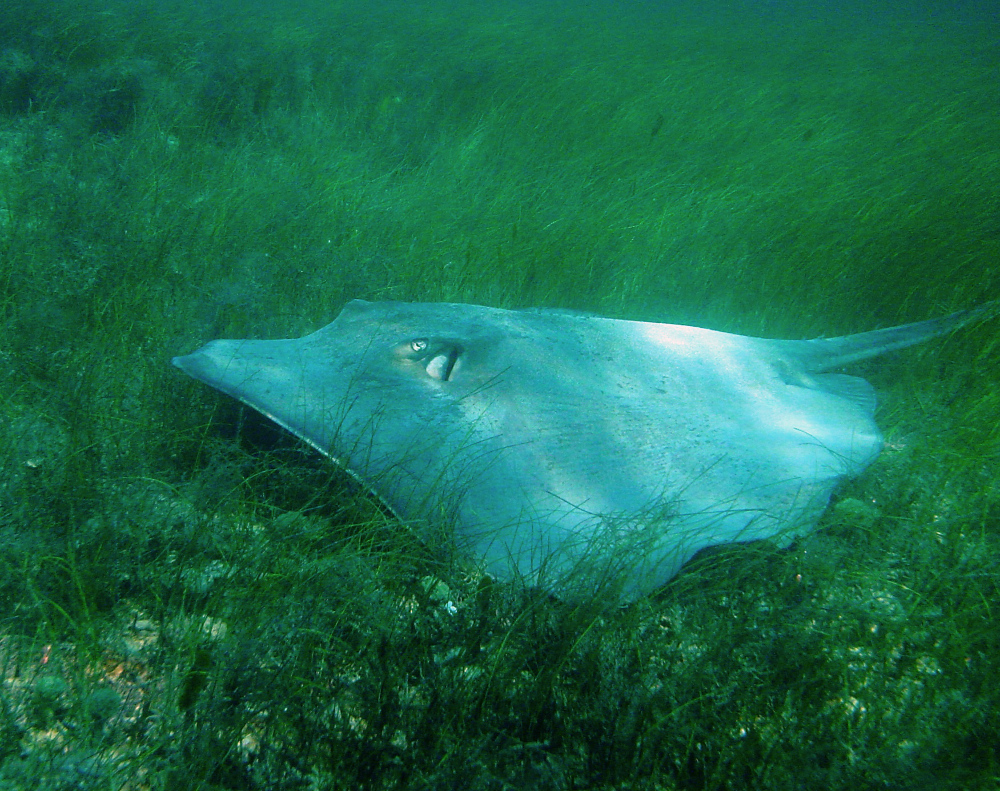 Hypanus guttatus
(Bloch & Schneider, 1801); © Tiego Costa, Ocean Laboratory, Federal University of Rio Grande do Norte, Brazil
Common names

Hocicona,

Raya,

Raya blanca,

Raya hocicona,

Raya látigo del Golfo,

Raya látigo hocicona,

Raya máxima,

Rayalatigo hocicona,

Pastenague longnez,

Longnose Stingray,

Stingray,

Arraia,

Arraia branca,

Arraia-bico-de-remo,

Arraia-bicuda,

Arraia-lixa,

Jabebiretê,

Jabiretê,

Raia,

Raia-branca,

Raia-lixa,

Raia-lixo
Short Description
Disc rhomboid. Blunt and close-set tubercles that clothe the midzone of disc. Snout in front of eyes about 1.4 times as long as distance between outer margins of orbits. Upper surface brown, sometimes yellowish or olivaceous. Lower surface pure or yellowish white, ventral tail fold and dorsal keel black
[199]
.
Distribution
Western Atlantic: southern Gulf of Mexico and West Indies to Santos, Brazil. Source:
www.gbif.org
Human uses
fisheries: minor commercial; price category: low; price reliability: very questionable: based on ex-vessel price for species in this family
Biology
Exhibit ovoviparity (aplacental viviparity), with embryos feeding initially on yolk, then receiving additional nourishment from the mother by indirect absorption of uterine fluid enriched with mucus, fat or protein through specialised structures
[733]
. Distinct pairing with embrace
[17086]
. Inhabits shallow waters.
Size / Weight / Age
200 cm WD (male/unsexed; (Ref.
3168
))
Habitat
demersal; marine; depth range ? - 36 m
[2445]
Remarks
shark-references Species-ID=14626;
Parasites (arranged by Jürgen Pollerspöck)
Monogenea
Cestoda
Isopoda