NCBI GenBank
Hypanus say
(Lesueur, 1817)
Bluntnose stingray
Classification:
Elasmobranchii Myliobatiformes Dasyatidae
Reference of the original description
Description of three new species of the genus Raja.
Journal of the Academy of Natural Sciences of Philadelphia, 1(ser. 1), 41–45
Image of the original description
No image in first description.
Synonyms / new combinations and misspellings
Dasibatis sayi, Dasyatis say, Dasyatis sayi, Dasybatus say, Dasybatus sayi, Myliobatis say, Raja say, Trygon sayi, Trygon (Trygon) sayi
Description :



Citation:

Hypanus say

(Lesueur, 1817): In: Database of modern sharks, rays and chimaeras, www.shark-references.com, World Wide Web electronic publication, Version 05/2023

Please send your images of
"Hypanus say"
to
info@shark-references.com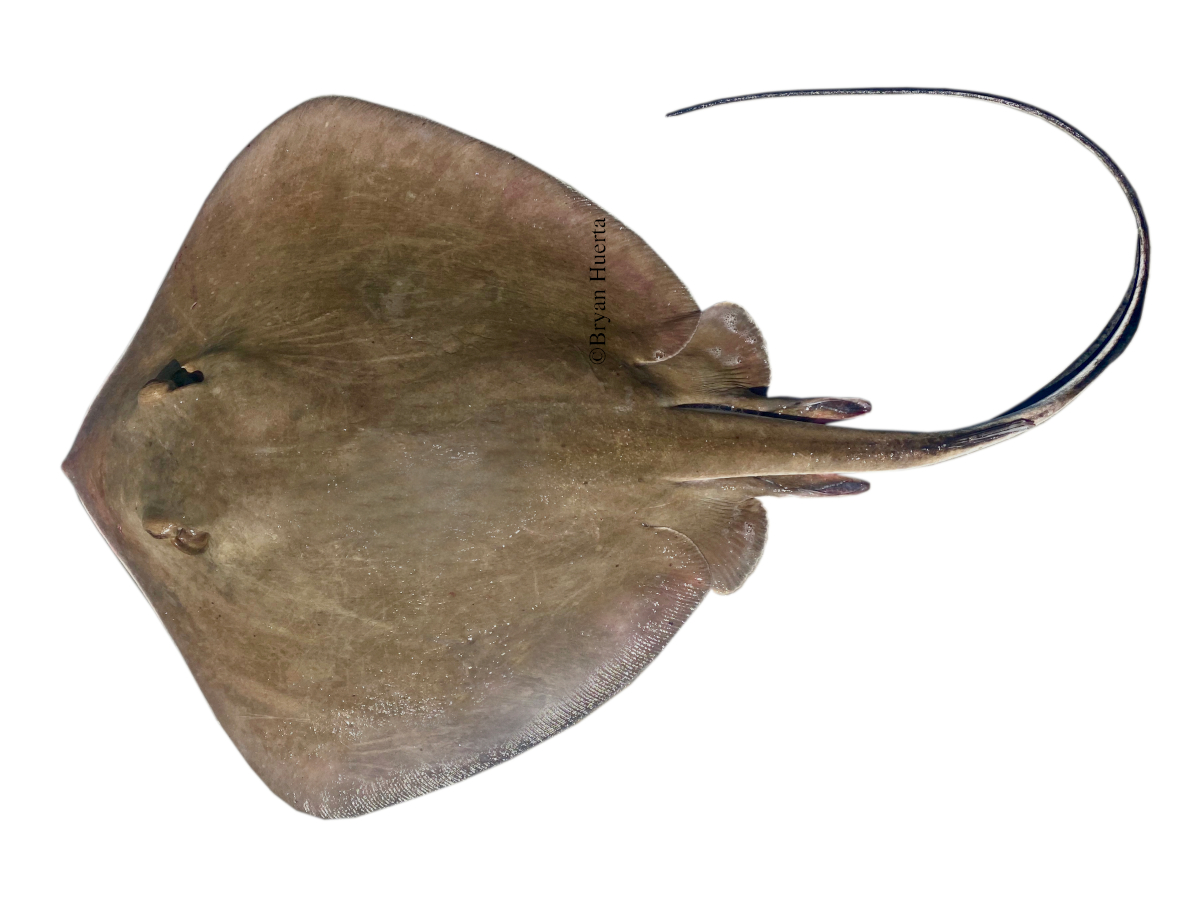 Hypanus say
(Lesueur, 1817), male, northern Gulf of Mexico © Bryan Huerta
Common names

Stumpfnasenstechrochen,

Chucho,

Raya,

Raya hocicona,

Raya látigo chata,

Raya mediana,

Blunmose Stingray,

Bluntnose stingray,

Say"s stingray,

Arraia-amarela,

Arraia-manteiga,

Manteiga,

Raia,

Raia amarela,

Raia chita,

Raia mijona,

Raia prego,

Raia-manteiga
Short Description
Moderate size, with a short blunt snout. Disk has rounded corners, few tubercles and spines along midline
[17659]
. Well developed fold on the upper surface and lower surface of tail. Yellowish or light brown above. Lower surface whitish or pure white
[199]
.
Distribution
Western Atlantic: New Jersey (rarely in Massachusetts), USA and northern Gulf of Mexico to Argentina; widespread in the West Indies. Throughout Antilles
[17659]
. Source:
www.gbif.org
Biology
Exhibit ovoviparity (aplacental viviparity), with embryos feeding initially on yolk, then receiving additional nourishment from the mother by indirect absorption of uterine fluid enriched with mucus, fat or protein through specialised structures
[733]
. Distinct pairing with embrace
[17086]
. Inhabits coastal waters
[17658]
. Generally found near shore, to depths of 10 m. Bottom feeder with fish, clams, worms and shrimps.
Size / Weight / Age
100.0 cm WD (male/unsexed;
[17659]
)
Remarks
shark-references Species-ID=14631;
Parasites (arranged by Jürgen Pollerspöck)
Monogenea
Cestoda
Acanthocephala
Rhadinorhynchus pristis (Rudolphi, 1802) [17126]
Hirudinea