NCBI GenBank
Mustelus henlei
(Gill, 1863)
Brown smooth-hound
Classification:
Elasmobranchii Carcharhiniformes Triakidae
Reference of the original description
On the classification of the families and genera of the Squali of California.
Proceedings of the Academy of Natural Sciences of Philadelphia, 14, 483–501
Image of the original description
No image in first description.
Synonyms / new combinations and misspellings
Rhinotriacis henlei, Triacis henlei, Triakis henlei
Description :



Citation:

Mustelus henlei

(Gill, 1863): In: Database of modern sharks, rays and chimaeras, www.shark-references.com, World Wide Web electronic publication, Version 06/2023

Please send your images of
"Mustelus henlei"
to
info@shark-references.com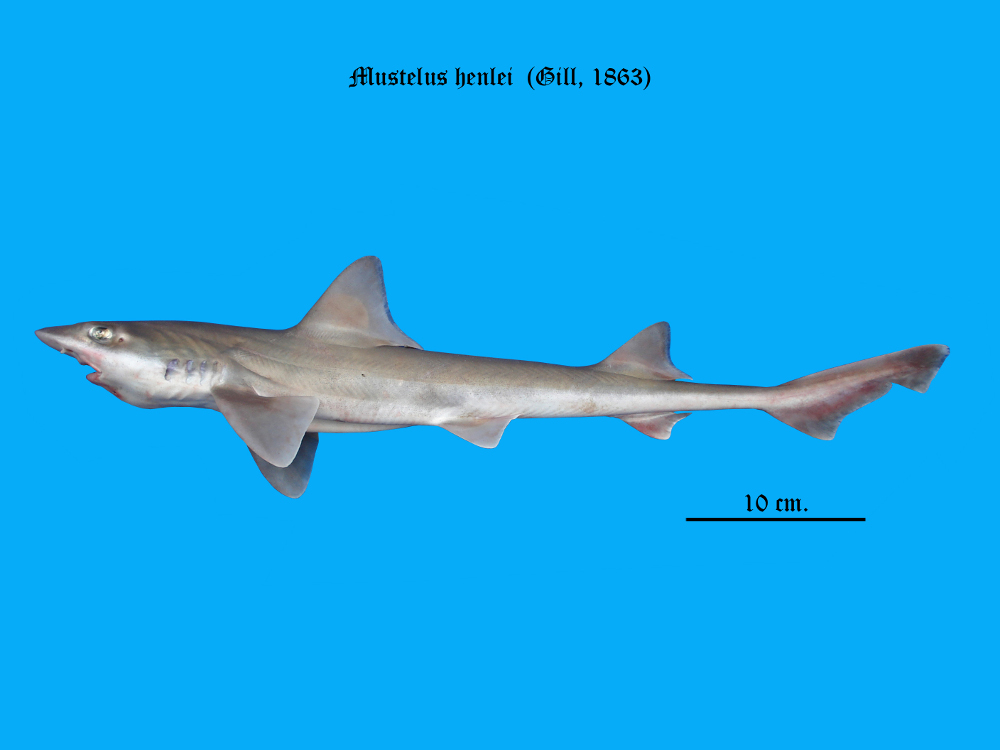 Mustelus henlei
(Gill, 1863), Ecuador (2007) © Colombo Estupiñán-Montaño, Centro Interdisciplinario de Ciencias Marinas - CICIMAR
Common names

Cazón de leche,

Cazón hilacho,

Cazón pardo,

Musola parda,

Emissole brune,

Brown smooth hound,

Brown smooth-hound,

Brown smoothhound
Short Description
Diagnosis after Compagno, 1984
[517]
: Body fairly slender. Head short, prepectoral length 19 to 22% of total length; snout moderately long and bluntly to sharply angular in lateral view, preoral snout 6.4 to 8% of total length, preorbital snout 6.6 to 8.4% of total length; internarial space broad, 2.6 to 3.4% of total length; eyes large, eye length 1.9 to 2.9 times in preorbital snout and 2.6 to 3.7% of total length; interorbital space fairly narrow, 3.9 to 5.3% of total length; mouth moderately long, subequal to eye length and 2.7 to 3.8% of total length; upper labial furrows longer than lowers, upper furrows 1.6 to 2.4% of total length; teeth cuspidate and asymmetric, with a rather strong primary cusp and usually cusplets present at all ages; buccopharyngeal denticles confined to anterior third of palate and surface of tongue. Interdorsal space 19 to 24% of total length; trailing edges of dorsal fins, and occasionally anal and caudal fins, naked with a broad, conspicuous dark band of bare ceratotrichia; first dorsal broadly triangular, with posteroventrally sloping posterior margin, its midbase closer to pelvic bases than to pectorals; pectoral fins moderately large, length of anterior margins 13 to 16% of total length, width of posterior margin 8.1 to 13% of total length; pelvic fins moderate-sized, anterior margin length 6.2 to 7.9% of total length; anal height 2.7 to 3.8% of total length; anal-caudal space greater than second dorsal height and 6.9 to 8.6% of total length; ventral caudal lobe more or less falcate in adults. Crowns of lateral trunk denticles more or less tricuspidate, with longitudinal ridges extending their entire length. Skeleton not hypercalcified in adults; palatoquadrates not subdivided; monospondylous precaudal centra 39 to 45, diplospondylous precaudal centra 54 to 65, precaudal centra 97 to 106. Colour usually iridescent bronzy-brown above, occasionally greyish, white below; no white spots or dark spots or dark bars. Development viviparous. Size moderate, adults 52 to 90 cm.
Distribution
Eastern Pacific: northern California, USA to the Gulf of California; Ecuador and Peru. Source:
www.gbif.org
Human uses
fisheries: highly commercial; gamefish: yes; price category: low; price reliability: reliable: based on ex-vessel price for this species
Biology
Viviparous with a yolk-sac placenta; with 3 to 5 young in a litter. Size at birth ranges from 19-21 cm
[517]
. Distinct pairing with embrace
[17086]
.
Diet: Costa Rica (data base: 340 stomachs analysed): Immature M. henlei had a highly diverse diet (H = 2·57, BA = 0·568), consisting of shrimps, teleosts, stomatopods and cephalopods. The diet from mature M. henlei had a lower diversity and dietary breadth (H = 1·89, BA = 0·474). Additionally, both teleosts and cephalopods represented a high proportion of their diet
[17194]
[22647]
.
central coast of the Colombian Pacific
[25131]
: (data basis: 123, 6 had empty stomach, TL 40-77.5 cm); Diet: Teleostei (93.16% percent by frequency of occurrence=FO), Brachyura (40.17%FO), Dendrobranchiata ( 22.22%FO)
Habitat
demersal; marine; depth range 0 - 200 m (Ref.
9253
)
Remarks
shark-references Species-ID=3796;
Parasites (arranged by Jürgen Pollerspöck)
Myxosporea
Cestoda
Trematoda
Copepoda
Hirudinea