Otodus (Megaselachus) megalodon
(AGASSIZ, 1837)
Classification:
Elasmobranchii Lamniformes Otodontidae
Reference of the original description
Recherches sur les poissons fossiles.
Volume 3 with plates
Image of the original description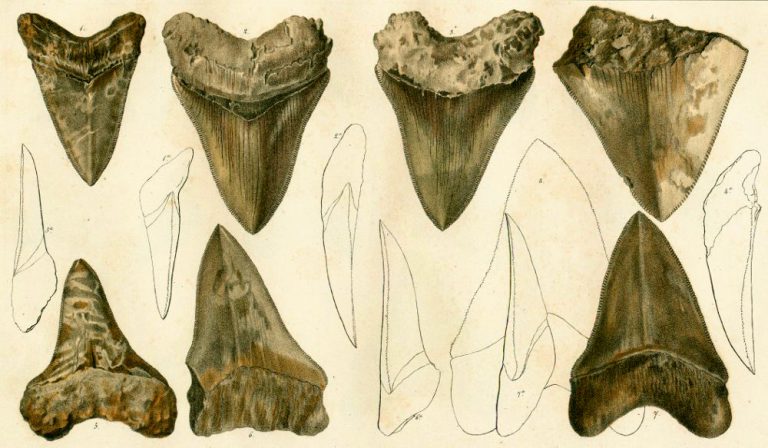 Otodus (Megaselachus) megalodon (AGASSIZ, 1837) as Carcharodon megalodon, Tafel29-fig.1-7
Synonyms / new combinations and misspellings
Carcharias giganteus, Carcharias grosseserratus, Carcharias incidens, Carcharias macrodon, Carcharias megalodon, Carcharias mexicanus, Carcharias polygurus, Carcharias polygyrus, Carcharias productus, Carcharias (Prionodon) incidens, Carcharocles aff. megalodon, Carcharocles megalodon, Carcharocles megalodon megalodon, Carcharocles productus, Carcharodon arcuatus, Carcharodon branneri, Carcharodon brevis, Carcharodon costae, Carcharodon crassidens, Carcharodon crassirhadix, Carcharodon crassus, Carcharodon crassus NEUGEBOREN, 1850, Carcharodon gibbesi, Carcharodon gigas, Carcharodon helveticus, Carcharodon humilis, Carcharodon intermedius, Carcharodon latissimus, Carcharodon leviathan, Carcharodon megalodon, Carcharodon megalodon indica, Carcharodon megalodon megalodon, Carcharodon megalodon polygyra, Carcharodon megalodon productus, Carcharodon megalodon siculus, Carcharodon megalodon yamanarii, Carcharodon morricei, Carcharodon polygurus, Carcharodon polygyrus, Carcharodon productus, Carcharodon quenstedti, Carcharodon rectidens, Carcharodon rectideus, Carcharodon semiserratus, Carcharodon tumidissimus, Carcharodon turicensis, Megaselachus arcuatus, Megaselachus auriculatus falciformis, Megaselachus branneri, Megaselachus brevis, Megaselachus crassidens, Megaselachus crassirhadix, Megaselachus crassus, Megaselachus gigas, Megaselachus heterodon, Megaselachus humilis, Megaselachus incidens, Megaselachus leviathan, Megaselachus megalodon, Megaselachus megalodon indicus, Megaselachus polygyrus, Megaselachus productus, Megaselachus rectidens, Megaselachus semiserratus, Otodus megalodon, Procarcharodon aff. megalodon, Procarcharodon megalodon, Procarcharodon megalodon megalodon , Selache manzonii
Types
Otodus (Megaselachus) megalodon
Description:



Citation:

Otodus (Megaselachus) megalodon (AGASSIZ, 1837): In: Database of fossil elasmobranch teeth www.shark-references.com, World Wide Web electronic publication, Version 08/2019

Please send your images of
"Otodus (Megaselachus) megalodon"
to
info@shark-references.com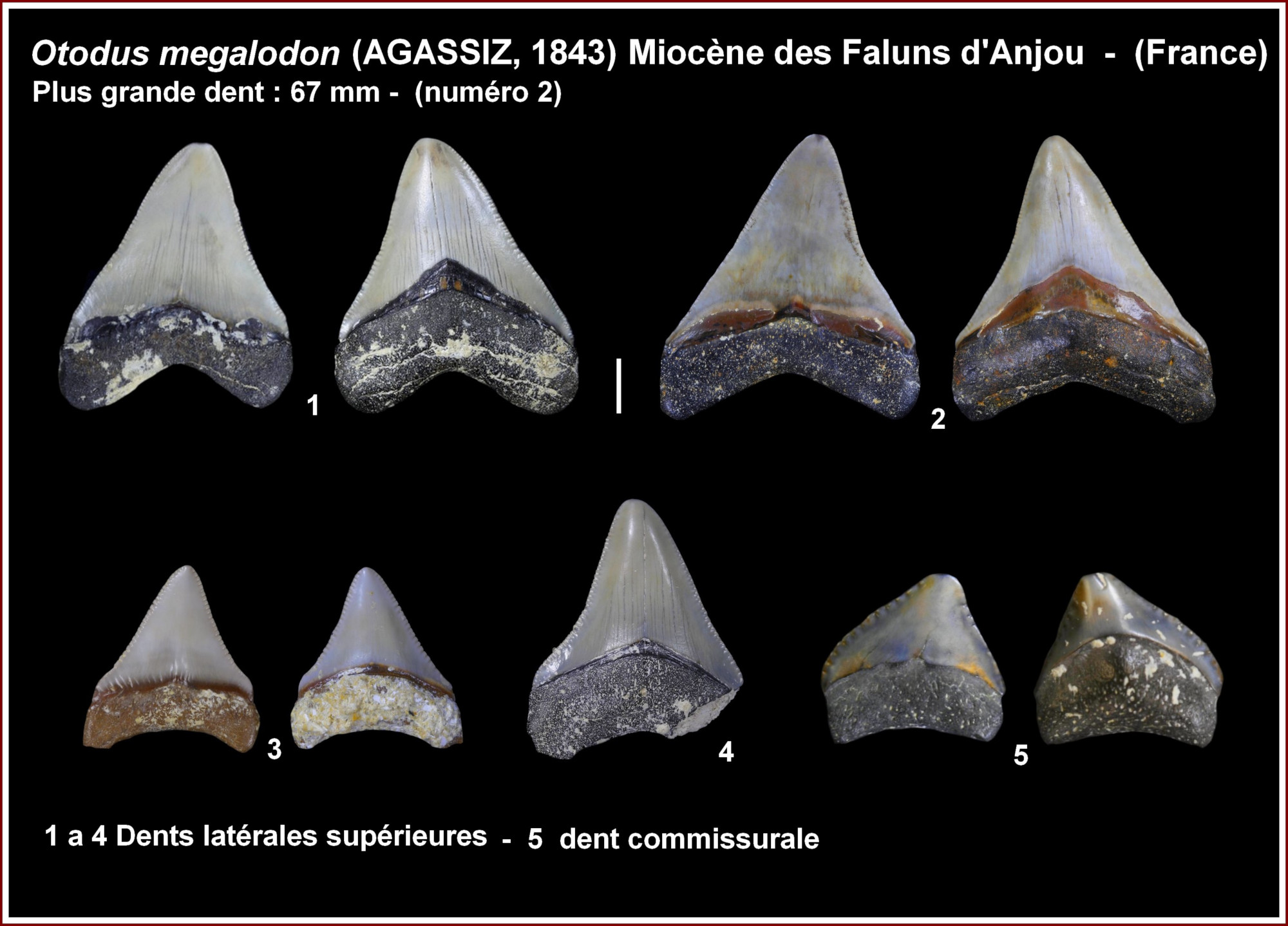 Otodus (Megaselachus) megalodon
(AGASSIZ, 1837), Miocene, Langhian, France © Jean-Francois LHOMME, www.vertebres-fossiles.com
Distribution Geographic
after Cappetta 2012
[16818]
: Carcharodon megalodon AGASSIZ 1835 (1843B) 210). Miocene; Dax, Landes, southwestern France; Swiss Molasse; Malta?; England; Maryland, US.A. KEYES (1972A) recorded the presence of the species megalodon throughout the Oligocene in New Zealand. However, one can have serious reservations about this occurrence. Teeth of the species have been collected because of their large size in most Miocene and Pliocene deposits throughout the world. A nomenclatural question arose concerning author and date of the first publication of the species: AGASSIZ 1835 (1843B) or CHARLESWORTH 1837 (see WOODWARD & SHERRORN 1890; JEAN NET 1928). This problem was discussed by CAHUZAC et a1. (2007).
Distribution Strategraphy
Miocene, Pliocene