Paraorthacodus recurvus
(Trautschold, 1877)
Classification:
Elasmobranchii Hexanchiformes Paraorthacodontidae
Reference of the original description
Über Kreidefossilien Russlands.
Bulletin de la Société Impériale des Naturalistes de Moscou, 11, 332–349
Image of the original description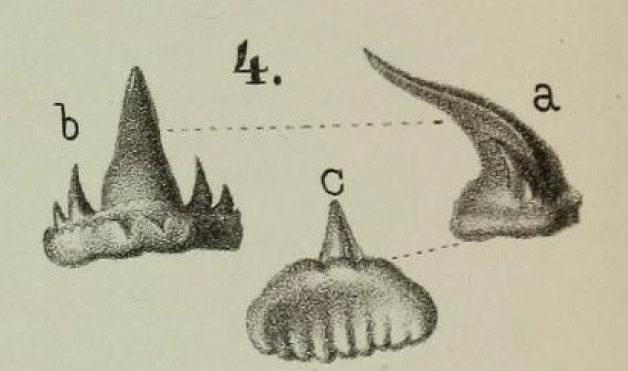 Paraorthacodus recurvus (Trautschold, 1877), image of the first description
Synonyms / new combinations and misspellings
Sphenodus recurvus, Synechodus recurvus
Types
Paraorthacodus recurvus
Description:



Citation:

Paraorthacodus recurvus (Trautschold, 1877): In: Database of fossil elasmobranch teeth www.shark-references.com, World Wide Web electronic publication, Version 01/2023

Please send your images of
"Paraorthacodus recurvus"
to
info@shark-references.com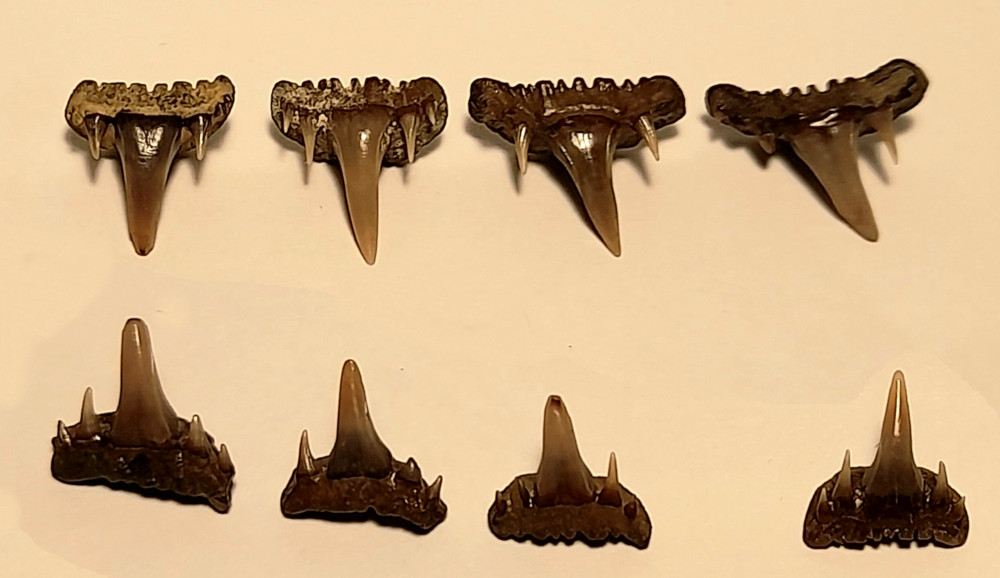 Paraorthacodus recurvus
(Trautschold, 1877), Cretaceous, Cenomanian, Tambov, Russia © Вячеслав Смелков
Distribution Geographic
Ssaratov, Russia
Distribution Strategraphy
Cretaceous
Description
Original diagnosis TRAUTSCHOLD, 1877 [12650]: Die Gattung Sphenodus unterscheidet sich von Hybodus durch lamnoide Zähne, die sich scharf von der flachen Wurzel absetzen, indem das Email sich nicht über die Wurzel ausbreitet, wie bei Hybodus und auch bei Cladodus. Die Zähne selbst sind wie bei Lamna ohne Falten, ganz glatt und mit scharfen Kanten, während bei Hybodus und Cladodus die Kanten mehr oder weniger abgerundet sind. Es sind das sehr gute Charaktere, welche die Gattungen Sphenodus und Hybodus streng von einander scheiden. Was Reuss als Hybodus dispar beschreibt (Versteinerungen der böhmischen Kreideformation II p. 98. t. 24. f. 27. 28.) ist ohne Zweifel auch ein Sphenodus, denn er spricht davon, dass sich das Email des Zahnes gegen die Wurzel hin absetzt, aber die Art scheint verschieden von der Ssaratow'schen zu sein, denn Reuss sagt, dass der Mittelkegel wenig gebogen ist, während er im Ge geniheil bei unseren Zähnen eine sehr starke Biegung hat; ausserdem ist bei den Böhmischen Zähnen die äussere Fläche nur an der Spitze ganz glatt, das übrige von zarten Fältchen bedeckt, während bei unseren Zähnen nur ganz unbedeutende kleinen Fältchen am Grunde der äusseren Fläche bemerkbar sind. Ferner soll nach Reuss die äussere Fläche nur wenig flacher, als die innere sein, während bei den Ssaratow'schen Zähnen die Aussenfläche das Mittelkegels fast flach, die Innenseite dagegen stark gewölbt ist. Ueberhaupt lässt sich unsere Spezies folgendermassen charakterisiren; auf einer flachen Wurzel stehen fünf konische spitze Zähne, alle stark nach innen gebogen, von denen die beiden äusseren sehr klein, die beiden mittleren dreimal so gross als die äusseren, und die Haupkegel ungefähr einen Centimeter hoch sind. Nach aussen sind alle Zähne flach, nach innen gewölbt. Am Grunde der Aussenfläche sehr kurze seichte Fältchen. Die Wurzel- von unten betrachtet, stellt eine halbe Ellipse dar, der gerade Aussenrand Lammartig eingeschnitten von acht kleinen Fallen, von denen die mittelsten am längsten sind, wie dies auch auf unserer Zeichnung gut wiedergegeben ist; ausserdem ist die Wurzelfläche nach dem Aussenrande hin etwas concav. Das Email des Hauptzahnes steht vom unteren Rande der Wurzel um zwei Millimeter ab. Dass die untere Fläche der Wurzel verhältnissmässig ziemlich breit ist, ist aus der Zeichnung zu ersehen, wie überhaupt die Grössenverhältnisse in derselben ihren richtigen Ausdruck gefunden haben. Der Fundort der Zähne, die zusammen mit Lamna subulata und appendiculata vorkommen, ist eine sandige Anhöhe unterhalb Ssaratow.
Remarks
valid after Ward (2010) p. 282
[13942]
;
References

Elasmobranch (Chondrichthyes) assemblages from the Albian (Lower Cretaceous) of Ukraine.
Cretaceous Research, 117, Article 104603
DOI:
10.1016/j.cretres.2020.104603
Marine vertebrates from the Santonian coastal carbonates of northwestern Germany – a tool for the reconstruction of a Proto- North Sea Basin intertidal dinosaur-exchange bridge.
Open Geosciences, 7(1), 342–361
DOI:
10.1515/geo-2015-0020

Sharks and rays.
In Field Guide to Fossils Number 12: Fossils of the Gault Clay J. R. Young(Editor), A. S. Gale(Editor), R. I. Knight(Editor), Dr Andrew B. Smith(Editor): 275–299
The upper Albian and lower Cenomanian succession at Kolbay, eastern Mangyshlak (southwest Kazakhstan).
Bulletin de l'Institut Royal des Sciences Naturelles de Belgique, Science de la Terre, 78, 117–147
A new shark species of the genus Galeorhinus (Chondrichthyes, Triakidae) from the Cenomanian of the lower Volga River basin.
Paleontological Journal, 34(4), 435–438
Albian and Cenomanian (Cretaceous) selachian faunas from north east England.
Special Papers in Palaeontology, 60, 9–56

Cretaceous Non-marine Vertebrates of Northern Eurasia.
Edited by L.B. Golovneva & A.O. Averianov. University of St. Petersburg, Instifute of Earth Crust. 218 pp.,60 plates. Price

Liste d'élasmobranches du Crétacé inférieur du bassin de Paris.
Cossmanniana, Hors–série 2, 49–51

Les Elasmobranches de l´Albien inférieur et moyen (Crétacé inférieur) de la Marne et de la Haute-Marne (France).
Belgian Geological Survey, Professional Paper, Elasmobranches et Stratigraphie, 264, 191–240

Les Sélaciens des terrains néocrétacés et paléocènes de Belgique et des contrées limitrophes. Eléments d'une biostratigraphie intercontinentale.
Mémoires pour servir à l'explication des Cartes géologiques et minières de la Belgique, 15: 401 p., 25 fig., 21 pl.

New records of rare Selachian teeth from the lower Cretaceous of Seine-Maritime.
Proceedings of the Geologists' Association, 88(1), 45–46
DOI:
10.1016/S0016-7878(77)80004-7
On the fossil fishes of the Lithuanian Chalk. I. Selachii.
Mémoires de la Faculté des Sciences de l'Université de Vytautas le Grand, 9: 243–305, 7 fig., 5 pl.
The Fossil Fishes of the English Chalk. Part VI.
Monograph of the Palaeontographical Society London, 64, 185–224

Catalogue of the fossil fishes in the British Museum. Part. I.
British Museum (Natural History): 474 p., fig., 17 pl.

Über Kreidefossilien Russlands.
Bulletin de la Société Impériale des Naturalistes de Moscou, 52(2), 332–349