NCBI GenBank
Pastinachus sephen
(FORSSKÅL, 1775)
Cowtail stingray
Classification:
Elasmobranchii Myliobatiformes Dasyatidae
Reference of the original description
Descriptiones animalium, avium, amphibiorum, piscium, insectorum, vermium / quae in itinere orientali observavit Petrus Forskål. Post mortem auctoris edidit Carsten Niebuhr. Adjuncta est materia medica kahirina atque tabula maris Rubri geographica.
Post mortem auctoris edidit Carsten Niebuhr. Hauniae. Descriptiones animalium quae in itinere ad Maris Australis terras per annos 1772 1773 et 1774 suscepto, ...: 1–20 + i–xxxiv + 1–164, map. [Pisces on pp. x–xix and 22–76.
Image of the original description
No image in first description.
Synonyms / new combinations and misspellings
Dasyatis gruveli, Dasyatis sephen, Dasyatis (Pastinachus) sephen, Dasybatus sephen, Dasybatus (Pastinachus) gruveli, Himantura fluviatilis, Hypolophus sephen, Pastinachus cf. sephen, Pastinachus gruveli, Raia fluviatilis, Raia sancur, Raia sephen, Raja fluviatilis, Raja sancur, Raja sephen, Raja wolga tenkee, Trygon fluviatilis, Trygon sephen, Trygon wolgatenkee, Trygon wolgatzuke, Trygon (Hypolophus) sephen
Description :



Citation:

Pastinachus sephen

(FORSSKÅL, 1775): In: Database of modern sharks, rays and chimaeras, www.shark-references.com, World Wide Web electronic publication, Version 05/2019

Please send your images of
"Pastinachus sephen"
to
info@shark-references.com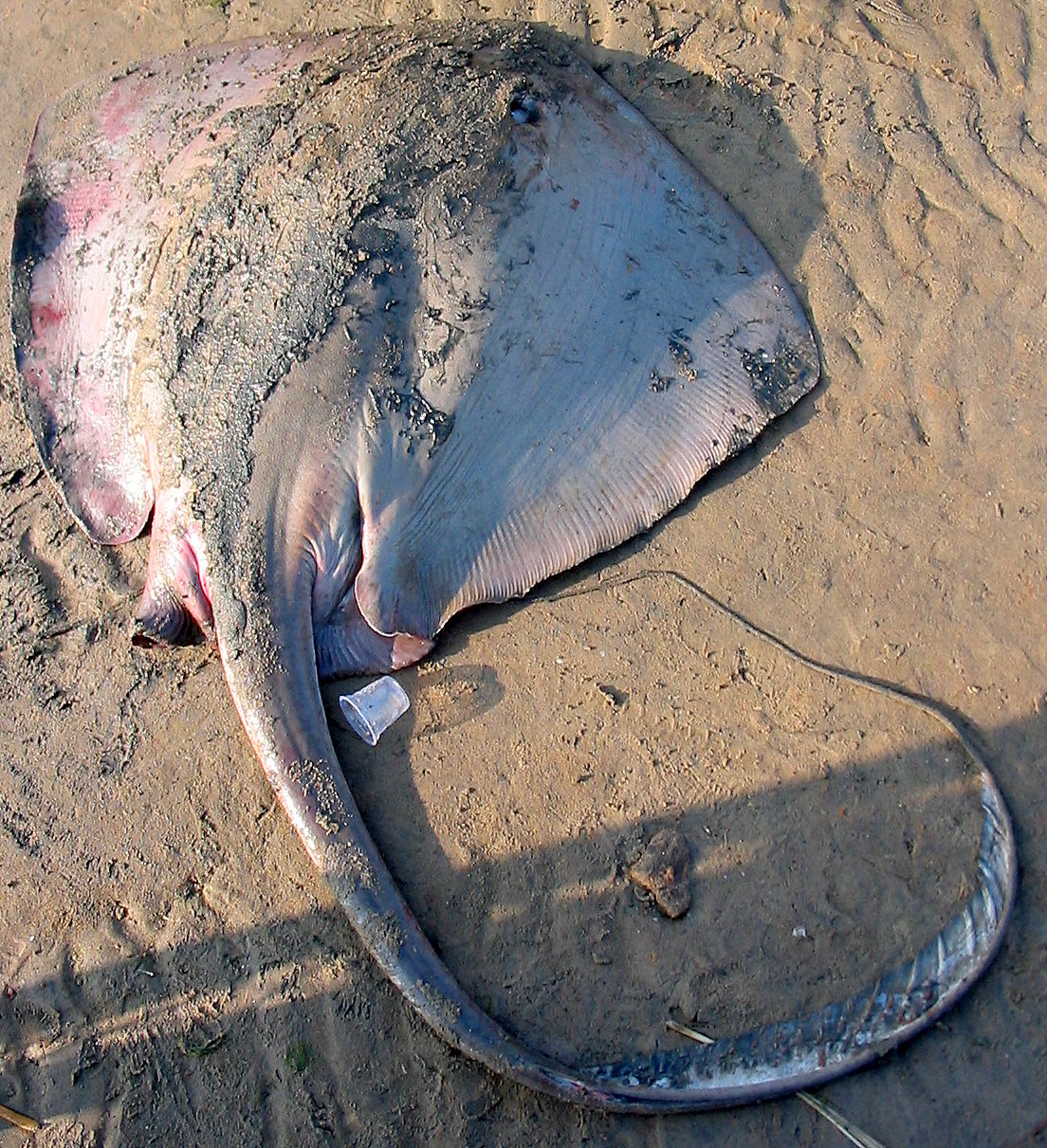 Pastinachus sephen (FORSSKÅL, 1775), Kakinada Bay, Bay of Bengal on East coast of India; © Dr. Padmavathi Devarapalli, FishBase Collaborator 1675, Kakinada-533003, Andhra Pradesh, INDIA
Common names

Pastenague plumetée,

Banana-tail ray,

Cowtail ray,

Cowtail stingray,

Cowtail-ray,

Drab stingray,

Fantail ray,

Fantail stingray,

Fantail-ray,

Feathertail stingray,

Frill tailed sting ray,

Guergunna,

Sting ray,

Weralli
Short Description
A large, plain, dark stingray with an angular snout and pectoral disc; tail long and broad-based, less than twice body length, and with no upper caudal finfold but with high lower caudal finfold- 2 to 3 times depth of tail but not reaching tail tip; no large thorns; 1 or 2 long stings on tail, further behind tail base than in most stingrays; unique hexagonal, high-crowned teeth
[536]
. Dark brown or black dorsally without conspicuous markings, white ventrally
[536]
. Tail black
[20091]
.
Distribution
Indo-West Pacific: Red Sea, Persian Gulf and South Africa to Micronesia, north to Japan, south to Melanesia and the Arafura Sea (Ref.
9819
). Source:
www.gbif.org
Human uses
fisheries: minor commercial; aquarium: commercial; price category: low; price reliability: very questionable: based on ex-vessel price for species in this family
Biology
Exhibit ovoviparity (aplacental viviparity), with embryos feeding initially on yolk, then receiving additional nourishment from the mother by indirect absorption of uterine fluid enriched with mucus, fat or protein through specialised structures
[733]
. Distinct pairing with embrace
[17086]
. Size at birth ~ 18 cm WD
[2539]
.
Size / Weight / Age
183 cm WD (male/unsexed; (Ref.
37816
))
Habitat
reef-associated; amphidromous
[17660]
; freshwater; brackish; marine; depth range ? - 60 m
[1388]
Remarks
shark-references Species-ID=4763;
Parasites (arranged by Jürgen Pollerspöck)
Monogenea
Cestoda
Nematoda
Echinocephalus overstreeti DEARDORFF & KO, 1983 [21500]
Terranova sp. [23910]
Hirudinea