IUCN Red List

NCBI GenBank
Potamotrygon brachyura
(Günther, 1880)
Short-tailed river stingray
Classification:
Elasmobranchii Myliobatiformes Potamotrygonidae
Reference of the original description
A contribution to the knowledge of the fish-fauna of the Rio de la Plata.
Annals and Magazine of Natural History, (Series 5), 6, 7–15
Image of the original description
No image in first description.
Synonyms / new combinations and misspellings
Potamotrygon brachyurus, Potamotrygon brumi, Raja brachyura (GÜNTHER, 1880), Trygon brachyurus
Types
Potamotrygon brachyura
Holotype:
BMNH
: 1953.8.10.14 (old: BMNH 1879.2.12.4)
Potamotrygon brumi
Holotype:
MHNM
:
? (not found)
;
Description :



Citation:

Potamotrygon brachyura

(Günther, 1880): In: Database of modern sharks, rays and chimaeras, www.shark-references.com, World Wide Web electronic publication, Version 07/2022

Please send your images of
"Potamotrygon brachyura"
to
info@shark-references.com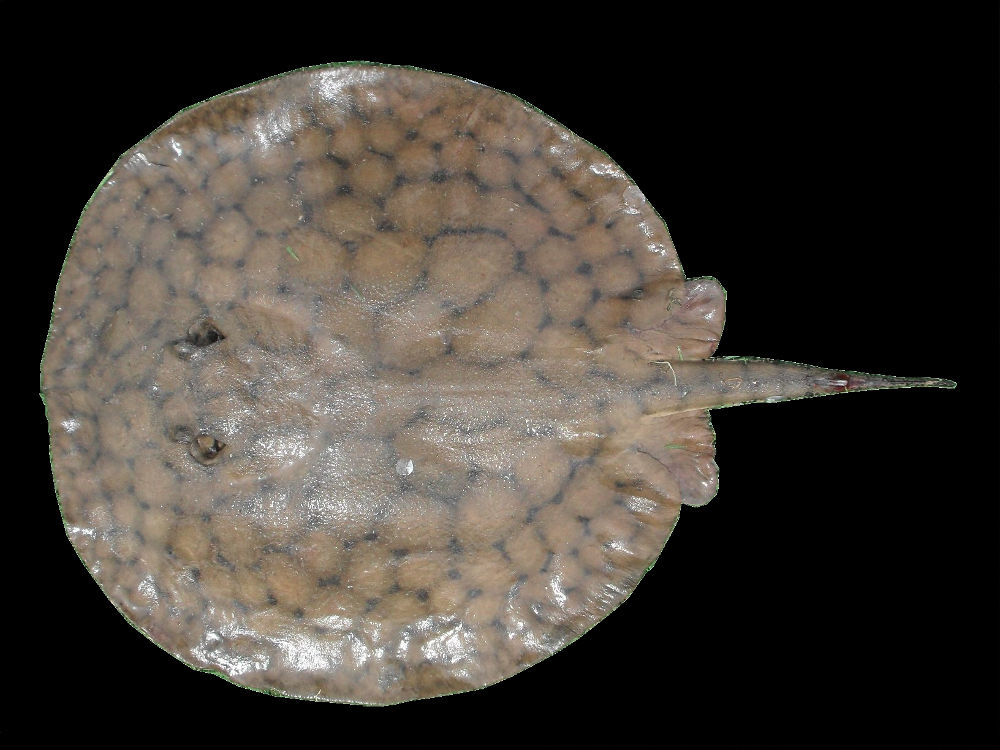 Potamotrygon brachyura (Günther, 1880), Paraná River, in the town of Victoria, Province of Entre Ríos, Argentina, © Luis O. Lucifora, Universidad Nacional de Misiones, Puerto Iguazú, Argentina
Common names

Raja,

Raya,

Short-tailed river stingray,

Shorttailed river stingray,

Arraia,

Raia
Distribution
South America: Paraná-Paraguay (including Cuiabá river in Brazil), Uruguay basins and Argentina
[5839]
[23014]
. Formerly classified as data deficient in the 2000 IUCN red list of threatened species.
Human uses
fisheries: subsistence fisheries
Size / Weight / Age
95.0 cm WD (male/unsexed; (Ref.
36687
)); max. published weight: 208.0 kg (Ref.
72380
)
Habitat
demersal; freshwater
Remarks
shark-references Species-ID=4939; CITES: (
see: Protected Species for more details
) Convention on International Trade in Endangered Speciesof Wild Fauna and Flora annex: III; Council Regulation 2017/160 annex: C
Parasites (arranged by Jürgen Pollerspöck)
Monogenea
Potamotrygonocotyle dromedarius Domingues & Marques, 2007 [14308]
Cestoda