NCBI GenBank
Prionace glauca
(Linnaeus, 1758)
Blue shark
Classification:
Elasmobranchii Carcharhiniformes Carcharhinidae
Reference of the original description
Systema Naturae per regna tria naturae, regnum animale, secundum classes, ordines, genera, species, cum characteribus differentiis synonymis, locis. Tomus I. Editio decima, reformata.
Stockholm, Laurentii Salvii, 824pp.
Image of the original description
No image in first description.
Synonyms / new combinations and misspellings
Carcharhinus glauca, Carcharhinus macki, Carcharhinus mackiei, Carcharias aethiops, Carcharias ciliaris, Carcharias glaucus, Carcharias gracilis, Carcharias hirundinaceus, Carcharias pugae, Carcharias (Prionodon) glaucus, Carcharias (Prionodon) hirundinaceus, Carcharinus glaucus, Charcharias glaucus, Galeus glauca, Galeus glaucus, Glyphis glauca, Glyphis glaucus, Glyphis mackiei, Hypoprion isodus, Hypoprion (Hemigaleus) isodus, Isuropsis glaucus, Isurus glaucus, Prionace aff. glaucus, Prionace glaucum, Prionace glaucus, Prionace mackiei, Prionodon glaucus, Prionodon subglaucus, Prionodon sublamia, Squalus ciliaris, Squalus glaucus, Squalus rondeletii, Squalus (Carcharinus) glaucus, Thalassinus rondeletii, Thalassorhinus rondeletii, Thalassorhinus vulpecula
Description :



Citation:

Prionace glauca

(Linnaeus, 1758): In: Database of modern sharks, rays and chimaeras, www.shark-references.com, World Wide Web electronic publication, Version 12/2023

Please send your images of
"Prionace glauca"
to
info@shark-references.com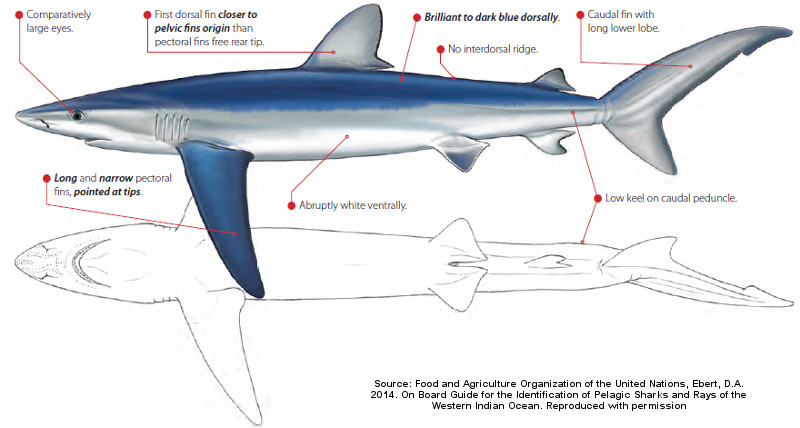 Prionace glauca
(Linnaeus, 1758), © FAO, Food and Agriculture Organization of the United Nations, Ebert, D.A. 2014. On Board Guide for the Identification of Pelagic Sharks and Rays of the Western Indian Ocean. Reproduced with permission, illustration by
Marc Dando
, Wildlife Illustrator
Common names

Blauer Hai,

Blauhai,

Großer Blauhai,

Aquella,

Azujelo,

Azulejo,

Ca-mari,

Caila,

Cailón,

Chiri,

Chirimoya,

Lija,

Melgacho,

Melgago,

Quella,

Sarda,

Taburó,

Tiburon azul,

Tiburón,

Tiburón limón,

Tintoleta,

Tintorera,

Verdemar,

Bleu,

Cagnot,

Cagnou,

Empereur,

Peau bleue,

Pei can,

Requin bleu,

Requin peau bleue,

Requin squale,

Requin tchi,

Tintourella,

Verdoun,

Blue dog,

Blue poninter,

Blue shark,

Blue whaler,

Blue whaler shark,

Great blue,

Great blue shark,

Great blue whaler,

Shark,

Tribon blou,

Cacciutieddu de mari,

Cagna,

Cagnizza blu,

Cagnoleto,

Calandruni,

Can,

Can da denti,

Can turchin,

Canesca,

Celeste,

Cialandruni,

Cialestru,

Gialestru,

Moretta da denti,

Musiedde,

Smerije,

Squalo azzurro,

Squalo verdesca,

Verdalrola,

Verdarolo,

Verdesca,

Verdone,

Verdoro,

Verdun,

Virdeddru,

Virdeddu,

Virdisca,

Virdiscu,

Bico-doce,

Cação-azul,

Cação-focinhudo,

Cação-mole-mole,

Focinhudo,

Guelha,

Guelha azul,

Lombo-preto,

Mole-mole,

Pas modrulj,

Quelha,

Tintureira,

Tubarão azul,

Tubarão-azul,

Tubarão-de-focinho, Huta Kahla (malta)
Short Description
A slim, graceful blue shark with a long, conical snout, large eyes, and curved triangular upper teeth with saw edges; pectorals long and narrow; no interdorsal ridge
[536]
. Dark blue dorsally, bright blue on the sides, white ventrally
[536]
. Tips of pectoral fins and anal fin dusky
[544]
.
Distribution
Circumglobal in temperate and tropical waters. Western Atlantic: Newfoundland, Canada to Argentina. Central Atlantic. Eastern Atlantic: Norway to South Africa, including the Mediterranean. Indo-West Pacific: East Africa to Indonesia, Japan, Australia, New Caledonia, and New Zealand. Eastern Pacific: Gulf of Alaska to Chile. Probably the widest ranging chondrichthyian. Highly migratory species, Annex I of the 1982 Convention on the Law of the Sea
[20076]
.
First record: 2019: New Ireland Province, Papua New Guinea, western Pacific Ocean
[27359]
Source:
www.gbif.org
Human uses
fisheries: minor commercial; gamefish: yes; price category: medium; price reliability: reliable: based on ex-vessel price for this species
Biology
Distinct pairing with embrace
[17086]
. Viviparous
[20077]
, placental
[733]
; 4-63 young in a litter
[544]
; 4-135 (usually 15-30) pups
[2539]
, about 35-44 cm at birth. Gestation period ranges from 9 to 12 months
[517]
. Sexual dimorphism is evident in skin thickness of maturing and adult females (Ref.
49562
). Females have thicker skin layer than males of the same size (Ref.
49562
). Found worldwide in tropical and temperate seas; a pelagic species, sometimes advancing into coastal waters
[17641]
. Occurs on the continental shelf (Ref.
75154
). Prefer temperatures of 7-16°C; usually found in deeper waters in the tropics (Ref.
5951
). A carnivore
[17641]
. Parasites of the species include: Hepatoxylon squali pleurocercoid, Phyllobothrium dagnallium, Phyllobothrium sp. and Platybothrium parvum (Ref.
5951
).
Size / Weight / Age
400 cm TL (male/unsexed;
[20241]
); max. published weight: 205.9 kg (Ref.
40637
); max. reported age: 20 years
[20200]
Habitat
pelagic-oceanic; oceanodromous
[17660]
; marine; depth range 1 - 350 m
[1388]
, usually 80 - 220 m (Ref.
55193
)
Remarks
shark-references Species-ID=5004; taxonomic note: da Silva Rodrigues-Filho et al. (2023)
[31681]
: "Isogomphodon oxyrhynchus and Prionace glauca are therefore reclassified and recognized as Carcharhinus oxyrhynchus and Carcharhinus glaucus."
Parasites (arranged by Jürgen Pollerspöck)
Myxosporea
Chloromyxum leydigi Mingazzini, 1890 [32173]
Cestoda
Trematoda
Helicometrina nimia Linton, 1910 [23771]
Paronatrema guillerminae Mendez, 2023 [32073]
Nematoda
Copepoda
Actinopterygii
Remora remora (Linnaeus, 1758) [17257]