NCBI GenBank
Rhinobatos rhinobatos
(LINNAEUS, 1758)
Common guitarfish
Classification:
Elasmobranchii Rhinopristiformes Rhinobatidae
Reference of the original description
Systema Naturae per regna tria naturae, regnum animale, secundum classes, ordines, genera, species, cum characteribus differentiis synonymis, locis.
Ed. X., 1: 824 p. Stockholm (L. SALVIUS).
Image of the original description
No image in first description.
Synonyms / new combinations and misspellings
Leiobatus panduratus, Leiobatus pauduratus, Raia rhinobates, Raia rhinobatus, Raia rinobatos, Raia squatinoraia, Raia (Syrrhina) columnae, Raja rhinobatos, Raja rhinobatus, Rhinobatis columnae, Rhinobatis duhameli, Rhinobatos columnae, Rhinobatos rhinobatus, Rhinobatos (Rhinobatos) rhinobatos, Rhinobatus colomnae, Rhinobatus columnae, Rhinobatus duhameli, Rhinobatus panduratus, Rhinobatus rhinobatus, Rhinobatus (Syrrhina) columnae, Squatinoraja colonna
Description :



Citation:

Rhinobatos rhinobatos

(LINNAEUS, 1758): In: Database of modern sharks, rays and chimaeras, www.shark-references.com, World Wide Web electronic publication, Version 09/2020

Please send your images of
"Rhinobatos rhinobatos"
to
info@shark-references.com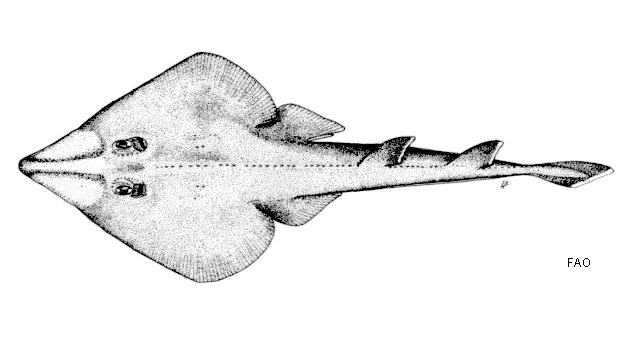 Rhinobatos rhinobatos (LINNAEUS, 1758), © FAO, www.fish-base.org
Common names

Geigenrochen,

Gemeiner Geigenrochen,

Gewöhnlicher Geigenrochen,

Glattrochen,

Hairochen,

Guitarra,

Guitarra común,

Manta,

Picudos,

Rayón,

Guitare,

Poisson-guitare commun,

Rhinobate commun,

Rhinobate commun de la Méditerranée,

Common guitarfish,

Common mediterranean guitarfish,

Common violinfish,

Guitarfish,

Lengthened shape,

Mediterranean longnose,

Calascione,

Catarre,

Chetarre,

Galascioene,

Mandolino,

Pesce chitarra,

Pesce violino,

Pesce viuline,

Pesciu chitara,

Pisci chitarra,

Pisci viulinu,

Quatra viuline,

Squadre,

Squadru monicu,

Squotre,

Viulinu,

Cassapai,

Guitarra,

Rabeca,

Raia-tubarão,

Viola
Short Description
Rostral ridges widely separated over their entire length; anterior nasal lobe reaching to level of inner corner of nostril, posterior nasal flap wide; spiracle with two moderately developed folds, the outer one more prominent; thorns relatively small, present around inner margin of orbits, between spiracles, on shoulders, and along midline of disc and tail; Upper surface khaki-brown, underside white (Ref.
6675
).
Distribution
Eastern Atlantic: southern Bay of Biscay to Angola, including Mediterranean Sea. Source:
www.gbif.org
Human uses
fisheries: commercial
Biology
Exhibit ovoviparity (aplacental viviparity), with embryos feeding initially on yolk, then receiving additional nourishment from the mother by indirect absorption of uterine fluid enriched with mucus, fat or protein through specialised structures
[733]
. One or two litters per year, of 4-10 embryos (Ref.
6675
)
Size / Weight / Age
100.0 cm TL (male/unsexed;
[20075]
)
Habitat
demersal; brackish; marine; depth range ? - 100 m
[1658]
Remarks
shark-references Species-ID=5972;
Parasites (arranged by Jürgen Pollerspöck)
Monogenea
Calicotyle vicina NEIFAR, EUZET & BEN HASSINE, 2001 [18056]
Neoheterocotyle ktarii NEIFAR, EUZET & BEN HASSINE, 2001 [18056]
Cestoda
Nematoda
Copepoda