NCBI GenBank
Rhizoprionodon terraenovae
(RICHARDSON, 1836)
Atlantic sharpnose shark
Classification:
Elasmobranchii Carcharhiniformes Carcharhinidae
Reference of the original description
The Fish.
In: Fauna Boreali–Americana; or the zoology of the northern parts of British America: containing descriptions of the objects of natural history collected on the late northern land expeditions, under the command of Sir John Franklin, R.N. Fauna Boreali–Americana; or the zoology of the northern parts of British America: ... Part 3: i–xv + 1–327, Pls. 74–97
Image of the original description
No image in first description.
Synonyms / new combinations and misspellings
Carcharhinus terrae-novae, Carcharias terraenovae, Carcharias (Scoliodon) terrae-novae, Lamna terrae-novae, Rhizoprionodon aff. terranovae, Rhizoprionodon cf. terra-novae, Rhizoprionodon terrae-novae, Rhizoprionodon terraenova, Rhizoprionodon terraenovae, Rhizoprionodon terranovae, Rhizoprionodon (Rhizoprionodon) terraenovae, Rhizoprionodon (Scoliodon) terraenovae, Scoliodon terra-novae, Scoliodon terrae novae, Scoliodon terrae-novae, Scoliodon terraenovae, Scoliodon terranovae, Squalus terraenovae, Squalus (Carcharias) terraenovae
Types
Rhizoprionodon terraenovae
Description :



Citation:

Rhizoprionodon terraenovae

(RICHARDSON, 1836): In: Database of modern sharks, rays and chimaeras, www.shark-references.com, World Wide Web electronic publication, Version 08/2020

Please send your images of
"Rhizoprionodon terraenovae"
to
info@shark-references.com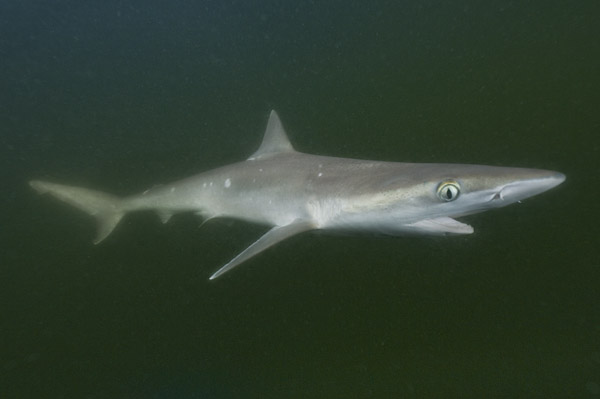 Rhizoprionodon terraenovae
(RICHARDSON, 1836), © Andy Murch
Elasmodiver
Common names

Cazón,

Cazón chino,

Cazón de ley,

Cazón de playa,

Cazón picudo atlántico,

Tollito,

Tollo hocicón,

Chien de mer,

Requin aiguille gussi,

Requin à nez pointu,

Atlantic Sharpnose Shark,

Atlantic sharp-nosed shark,

Newfoundland shark,

Sharp-nosed shark,

White shark,

Squalo di Terranuova,

Bicudo,

Cação-alecrim,

Cação-alegrim,

Cação-anjo,

Cação-bicudo,

Cação-de-bico-doce,

Cação-fidalgo,

Cação-frango,

Cucuri,

Frango,

Tubarao-terranova,

Tubarão frango
Short Description
Diagnostic Features: Prenarial snout 3.6 to 4.5% of total length; upper labial furrows long, 1.6 to 2.2% of total length; total count of enlarged hyomandibular pores on both sides of head just behind mouth angle usually over 16 (8 to 18 per side); teeth serrate in adults; teeth not differentiated in males and females; total tooth rows usually 25/24. First dorsal origin usually over or slightly in front of pectoral free rear tips; second dorsal origin ranges from above anal midbase to just in front of its insertion; pectoral anterior margin usually longer than first dorsal length from origin to free rear tip; adpressed pectoral apex reaching behind first third of first dorsal base. Posterior monospondylous precaudal centra enlarged; precaudal centra less numerous than caudals, precaudals 58 to 66, total centra 126 to 144. Size moderate, males maturing over 64 cm total length. Colour grey or grey-brown, white below, large specimens with small light spots, pectorals with white margins, dorsals with dusky tips.
[517]
Distribution
Western Atlantic: New Brunswick, Canada to the Gulf of Mexico. Southwest Atlantic: coasts of Brazil. Source:
www.gbif.org
Human uses
fisheries: subsistence fisheries; gamefish: yes
Biology
Distinct pairing with embrace
[17086]
. Viviparous, placental
[733]
. 1 to 7 young per litter. Larger females carry more young. Size at birth 29-37 cm. Gestation period is 10 to 11 months in the northern Gulf of Mexico. Sex ratio of near term fetuses is 1:1
[517]
.
Size / Weight / Age
110 cm NG (male/unsexed; (Ref.
37512
)); 110 cm TL (female); max. published weight: 7,250 g (Ref.
40637
); max. reported age: 10 years (Ref.
6140
)
Remarks
shark-references Species-ID=6124;
Parasites (arranged by Jürgen Pollerspöck)
Myxosporea
Monogenea
Cestoda
Trematoda
Nematoda
Copepoda