NCBI GenBank
Squatina guggenheim
Marini, 1936
Angular angel shark
Classification:
Elasmobranchii Squatiniformes Squatinidae
Reference of the original description
Revisión de las especies de la familia "Squatinidae" en las aguas argentinas ("S. guggenheim" n. sp.).
Physis, 12, 19–30
Image of the original description
Image in copyright.
Synonyms / new combinations and misspellings
Squatina punctata
Description :



Citation:

Squatina guggenheim

Marini, 1936: In: Database of modern sharks, rays and chimaeras, www.shark-references.com, World Wide Web electronic publication, Version 12/2023

Please send your images of
"Squatina guggenheim"
to
info@shark-references.com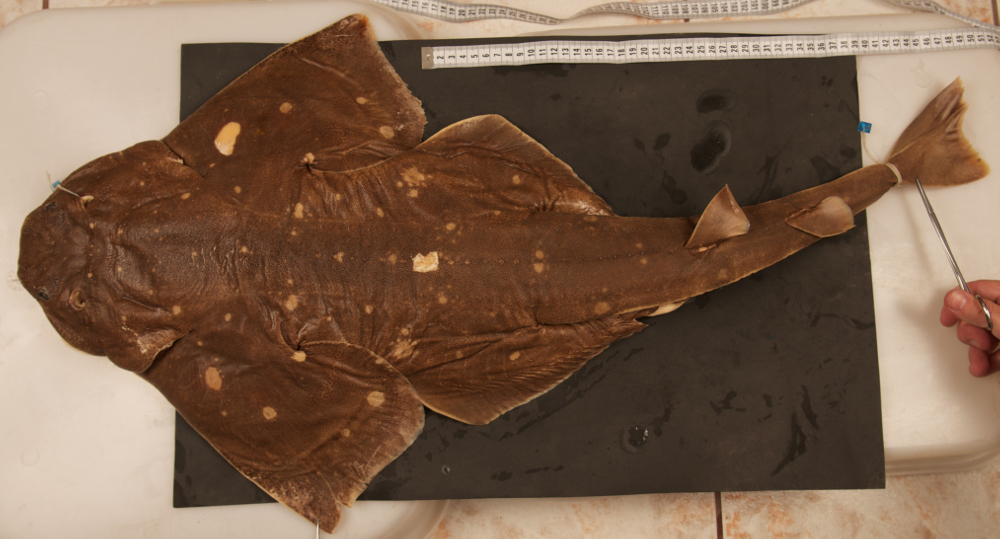 Squatina guggenheim
Marini, 1936, © Diego Vaz, Departamento de Zoologia, Instituto de Biociências - USP
Common names

Angelito,

Angular angel shark,

Argentine angelshark,

Cação-anjo
Short Description
A species of Squatina diagnosed by presenting a single (or multiple in juveniles) row of enlarged, conical and morphologically distinct dermal denticles over dorsal longitudinal midline, from midlength of pectoral fin base to origin of first dorsal fin (in some specimens, to origin of caudal fin); vertebral centra: maximum values 136,
[19578]
Distribution
southwestern Atlantic from Rio de Janeiro state, Brazil (approximately 23°S) to northern Argentina
[19578]
;
Biology
Ovoviviparous, embryos feed solely on yolk
[733]
. We observed that S. guggenheim presents only one functional ovary, on left side; its antimere is poorly developed, very reduced, and lacking oocytes
[19578]
; Bony fishes were the main food followed by crustaceans and molluscs
[4959]
. Diets of different size classes showed significant differences. Male and female diets were not found to differ significantly (P>0.01). Engraulis anchoita was the most consumed fish
[4959]
.
Size / Weight / Age
129 cm TL (male/unsexed;
[19579]
); 130 cm TL (female)
Dentition
18 to 22 vertical rows in both upper and lower jaws, tooth formula 9-9 to 11-11/9-9 to 11-11
[19578]
;
Remarks
shark-references Species-ID=6922;
Parasites (arranged by Jürgen Pollerspöck)
Myxosporea
Cestoda
Hirudinea