NCBI GenBank
Sympterygia acuta
Garman, 1877
Bignose fanskate
Classification:
Elasmobranchii Rajiformes Arhynchobatidae
Reference of the original description
On the pelvis and external sexual organs of selachians, with special reference to the new genera Potamotrygon and Disceus.
Proceedings of the Boston Society of Natural History, 19, 197–215
Synonyms / new combinations and misspellings
Raja echinorhyncha
Types
Sympterygia acuta
Holotype:
MCZ
: 632-S
Raja echinorhyncha
Lectotype:
MNRJ
: 583A Paralectotype:
MNRJ
: 583
Description :



Citation:

Sympterygia acuta

Garman, 1877: In: Database of modern sharks, rays and chimaeras, www.shark-references.com, World Wide Web electronic publication, Version 08/2022

Please send your images of
"Sympterygia acuta"
to
info@shark-references.com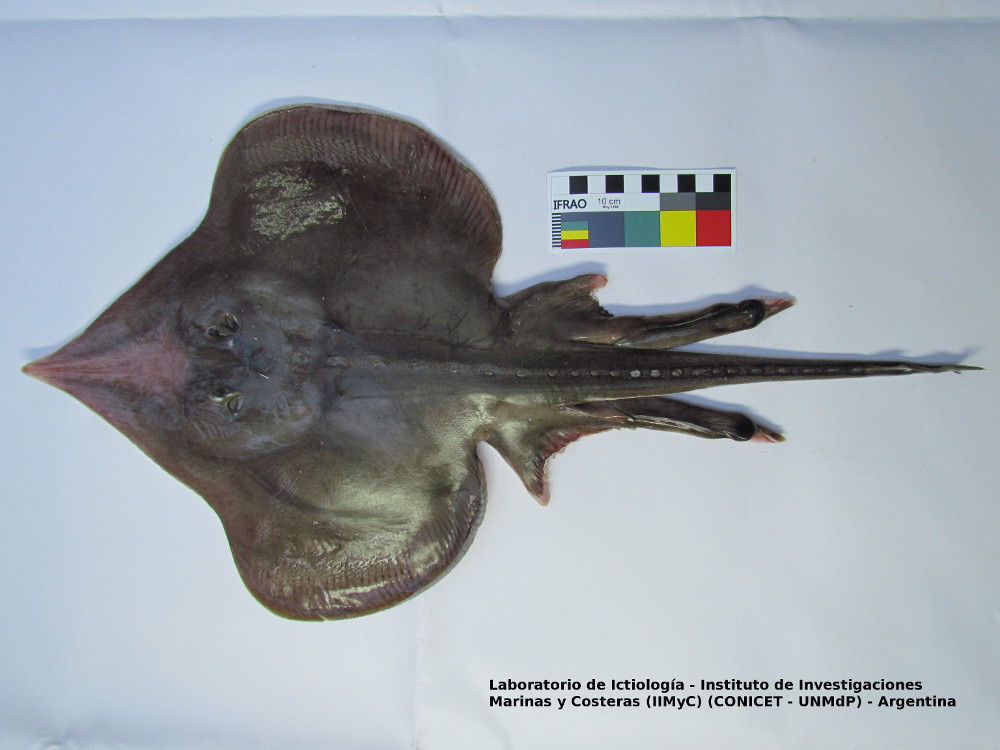 Sympterygia acuta Garman, 1877, male, © Santiago A. Barbini, Laboratorio de Ictiología Instituto de Investigaciones Marinas y Costeras, Argentinia
Common names

Raya marrón oscuro,

Bignose fanskate,

Ray,

Arraia-emplastro,

Raia,

Raia-emplasto,

Raia-emplastro,

Raia-santa
Distribution
Southwest Atlantic: Rio de Janeiro, Brazil to Rio de la Plata, Argentina. Source:
www.gbif.org
Biology
Oviparous, paired eggs are laid. Embryos feed solely on yolk
[733]
.
Diet: Sympterygia acuta fed on a broad spectrum of prey, but teleosts were more important (47.97% index of relative importance, %IRI), followed by decapods (39.84%IRI), cumaceans (8.31%IRI) and isopods (1.89%IRI), database: 417 speciemens (85 immature females, (253–512 mm TL), 57 mature females (435–620 mm TL), 80 immature males (260–516 mm TL), 79 mature males (448–570 mm TL)), 301 speciemens (72.18%) containing food in their stomachs.
[22774]
Size / Weight / Age
150 cm TL (male/unsexed;
[19579]
)
Habitat
demersal; marine; depth range 10 - 188 m
[19579]
Remarks
shark-references Species-ID=7047;
Parasites (arranged by Jürgen Pollerspöck)
Monogenea
Cestoda
Nematoda
Copepoda