NCBI GenBank
Sympterygia brevicaudata
(Cope, 1877)
Shorttail fanskate
Classification:
Elasmobranchii Rajiformes Arhynchobatidae
Reference of the original description
Synopsis of the cold blooded Vertebrata, procured by Prof. James Orton during his exploration of Peru in 1870-77.
Proceedings of the American Philosophical Society, 17, 33–49
Synonyms / new combinations and misspellings
Psammobatis asper, Psammobatis brevicaudatus, Psammobatis caudispina, Psammobatis chilcae, Psammobatis maculatus, Sympterygia brevicaudatus
Types
Sympterygia brevicaudata
Psammobatis asper
Holotype:
USNM
: 127786
Psammobatis caudispina
Holotype:
USNM
: 77710
Psammobatis chilcae
Holotype:
USNM
: 127785
Psammobatis maculatus
Holotype:
USNM
: 127787
Sympterygia brevicaudatus
Holotype:
ANSP
:
21261
;
Description :



Citation:

Sympterygia brevicaudata

(Cope, 1877): In: Database of modern sharks, rays and chimaeras, www.shark-references.com, World Wide Web electronic publication, Version 12/2023

Please send your images of
"Sympterygia brevicaudata"
to
info@shark-references.com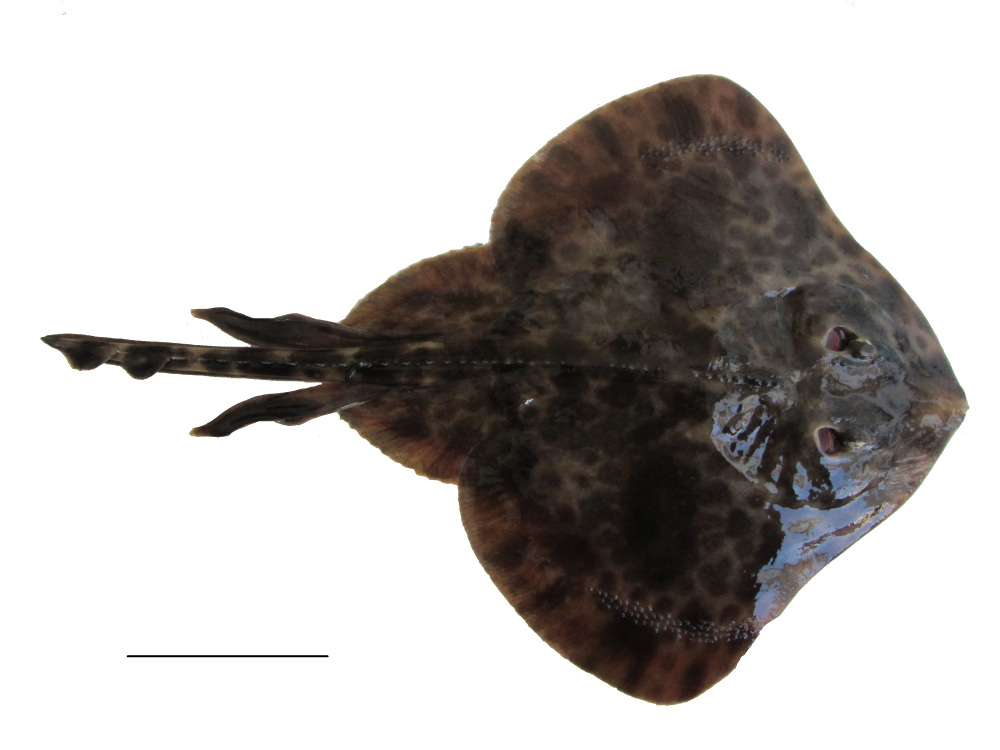 Sympterygia brevicaudata
(Cope, 1877), © Francisco Concha, Condrolab, Universidad de Valparaíso, Chile
Common names

Chilca skate,

Chunchito,

Chuncho,

Pastelillo,

Raya,

Raya espinosa,

Raya serrucho,

Spine skate,

Pacific skate,

Prickled skate,

Shorttail fanskate,

Shorttail skate,

Spotted skate
Distribution
Southeast Pacific: Ecuador to central Chile. Two specimens have been recorded from Uruguay but these may be in error. Source:
www.gbif.org
Biology
Oviparous, paired eggs are laid. Embryos feed solely on yolk
[733]
.
Size / Weight / Age
38.0 cm TL (male/unsexed; (Ref. ))
Habitat
demersal; marine; depth range 18 - 18 m (Ref.
58018
)
Remarks
shark-references Species-ID=7050;
Parasites (arranged by Jürgen Pollerspöck)
Cestoda
Copepoda
Brianella corniger Wilson, 1915 [23666]
Eudactylina parva Castro-Romero & Baeza-Kuroki, 1991 [17874]