NCBI GenBank
Triakis semifasciata
Girard, 1855
Leopard shark
Classification:
Elasmobranchii Carcharhiniformes Triakidae
Reference of the original description
Characteristics of some cartilaginous fishes of the Pacific coast of North America.
Proceedings of the Academy of Natural Sciences of Philadelphia, 7, 196–197
Image of the original description
No image in first description.
Synonyms / new combinations and misspellings
Mustelus felis, Triacis semifasciata, Triacis semifasciatus, Triakis californica, Triakis cf. semifasciata, Triakis felis, Triakis semifasciatum, Triakis semifasciatus, Triakis (Triakis) semifasciata
Description :



Citation:

Triakis semifasciata

Girard, 1855: In: Database of modern sharks, rays and chimaeras, www.shark-references.com, World Wide Web electronic publication, Version 06/2023

Please send your images of
"Triakis semifasciata"
to
info@shark-references.com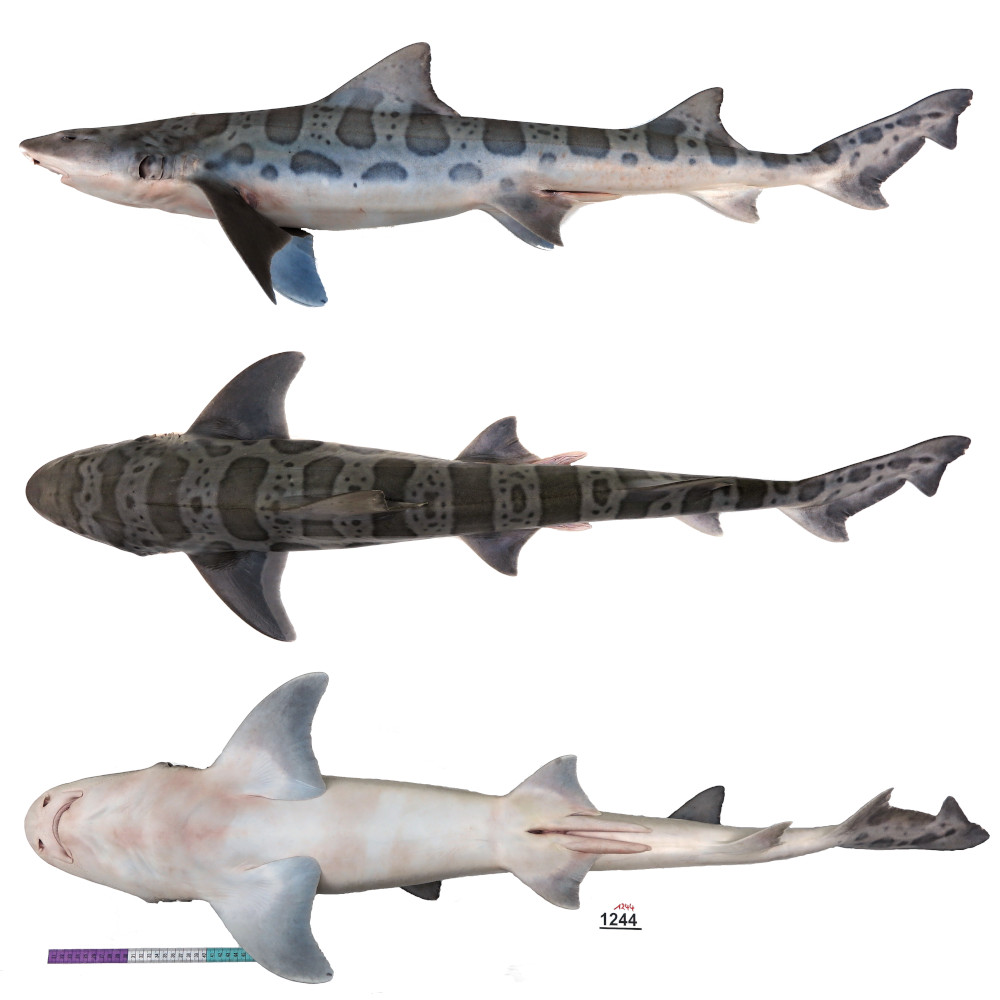 Triakis semifasciata
Girard, 1855, ERB 1244, male, 124, 0 cm TL, California, USA © Frederik H. Mollen (Elasmobranch Research Belgium)
Common names

Leopardhai,

Tiburón leopardo,

Tollo leopardo,

Virli léopard,

Leopard shark,

Tubarão-leopardo
Short Description
Original diagnose after Compagno, 1984
[517]
: Field Marks: The bold, saddled black colour pattern of this shark is unique.
Diagnostic Features: Strong cusps and cusplets on almost all teeth, teeth not semimolariform, lateroposterior ones bladelike, with strongly oblique cusps. First dorsal fin with posteroventrally sloping posterior margin; pectoral fins broadly triangular in adults. Total vertebral counts 129 to 150. Colour grey or bronzy-grey above, white below, with bold, large, broad black saddle-marks, becoming light-centred in adults, and scattered large black spots.
Distribution
Eastern Pacific: Oregon, USA to the Gulf of California. Source:
www.gbif.org
Human uses
fisheries: commercial; gamefish: yes; aquarium: commercial
Biology
Females produce 6-24 young, which are 20-23 cm long at birth (Ref.
43439
). Ovoviviparous, embryos feed solely on yolk
[733]
.
Size / Weight / Age
198 cm TL (male/unsexed;
[517]
); 180 cm TL (female); max. published weight: 18.4 kg (Ref.
40637
); max. reported age: 30 years (Ref.
6145
)
Remarks
shark-references Species-ID=7252;
Parasites (arranged by Jürgen Pollerspöck)
Myxosporea
Cestoda
Copepoda
Isopoda
Hirudinea