NCBI GenBank
Urobatis halleri
(COOPER, 1863)
Haller's round ray
Classification:
Elasmobranchii Myliobatiformes Urotrygonidae
Reference of the original description
On new genera and species of Californian fishes. N° II.
Proceedings of the California Academy of Sciences, (Series 1), 3 (6): 93–97
Image of the original description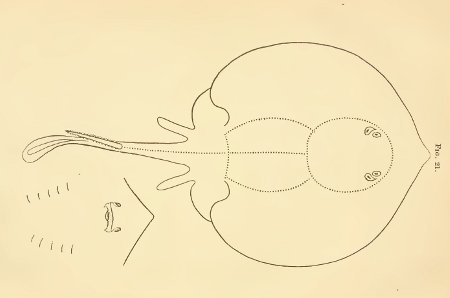 Urobatis halleri (COOPER, 1863)
Synonyms / new combinations and misspellings
Urobatis nebulosus, Urolophus halleri, Urolophus nebulosus, Urolophus umbrifer
Types
Urobatis halleri
Urolophus nebulosus
Holotype:
USNM
: 7356
Urolophus umbrifer
Holotype:
SU
: 2948 Paratype:
BMNH
: 1895.5.27.338 (ex SU 2914)
SU
: 2914
ZMB
: 14039 (ex SU 2914)
Description :



Citation:

Urobatis halleri

(COOPER, 1863): In: Database of modern sharks, rays and chimaeras, www.shark-references.com, World Wide Web electronic publication, Version 08/2019

Please send your images of
"Urobatis halleri"
to
info@shark-references.com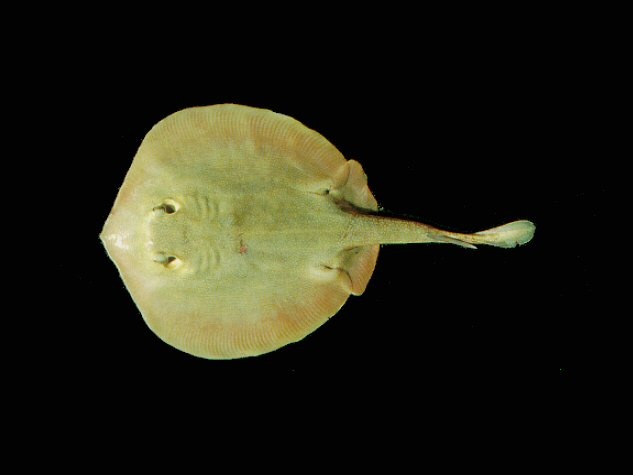 Urobatis halleri (COOPER, 1863), © Centro Interdisciplinario de Ciencias Marinas (CICIMAR-IPN) http://coleccion.cicimar.ipn.mx
Common names

Peitschenrochen,

Stechrochen,

Pastinaca,

Raya,

Raya de espina,

Raya redonda común,

Raya redonda de Haller,

Raya redonda de aguijón,

Raya sicodélica,

Raie ronde de Haller,

Haller"s round ray,

Round stingray,

Pastinaca,

Trigono
Short Description
Diet: central Mexican Pacific (data base: 175 stomachs were analyzed): The diet of this species was mainly composed of microcrustaceans, such as caridean shrimp and brachyuran and stomatopod larvae (>80% IRI), and differed significantly between seasons (table 2). During period T1 (the warm period, extends from July to December) three main categories were identified: Processidae, stomatopod larvae, and brachyuran larvae (>96% IRI). During period T2 (the cold period extends from January to June) the diet consisted primarily of amphipods, carideans (Ogyriididae and Processidae), Portunus asper, and penaeids (>93% IRI).
[13684]
Distribution
Eastern Pacific: Eureka in northern California, USA to Panama. Source:
www.gbif.org
Human uses
fisheries: minor commercial; gamefish: yes; aquarium: public aquariums; price category: medium; price reliability: unreliable: based on ex-vessel price for species in this order
Biology
Male grasps disc margin of female, flips under her, and inserts a clasper. Mating lasts about 5 minutes. Occurs on sand or mud bottom off beaches and in bays and sloughs
[17050]
. Densities of this species were significantly higher at warmer effluent water near the surfzone at Seal Beach, California than to cooler, ambient water further offshore (Ref.
54651
). Mobile invertebrate feeder (Ref.
57615
). Feeds on benthic invertebrates and small fishes.
Size / Weight / Age
58.0 cm TL (male/unsexed; (Ref.
40637
)); max. published weight: 1,360 g (Ref.
4699
)
Remarks
shark-references Species-ID=7396;
Parasites (arranged by Jürgen Pollerspöck)
Conoidasida
Myxosporea
Monogenea
Cestoda
Trematoda
Copepoda