NCBI GenBank
Urobatis jamaicensis
(Cuvier, 1816)
Yellow stingray
Classification:
Elasmobranchii Myliobatiformes Urotrygonidae
Reference of the original description
Le Règne Animal distribué d'après son organisation pour servir de base à l'histoire naturelle des animaux et d'introduction à l'anatomie comparée. Les reptiles, les poissons, les mollusques et les annélides.
Deterville, Paris, 532 pp
Image of the original description
No image in first description.
Synonyms / new combinations and misspellings
Raia jamaicensis, Trygonobatus torpedinus, Urobatis sloani vermiculatus, Urobatis vermiculatus, Urolophus jamaicensis, Urolophus torpedinus
Description :



Citation:

Urobatis jamaicensis

(Cuvier, 1816): In: Database of modern sharks, rays and chimaeras, www.shark-references.com, World Wide Web electronic publication, Version 12/2021

Please send your images of
"Urobatis jamaicensis"
to
info@shark-references.com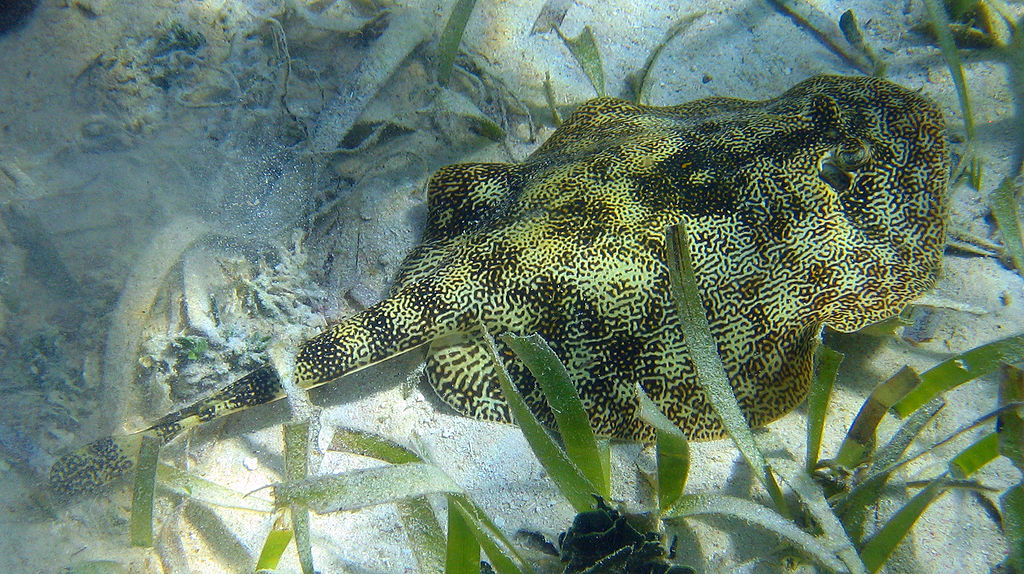 Urobatis jamaicensis (CUVIER, 1816) spotted in Hol Chan Marine Reserve, Belize; Matt Wright, wiki
Common names

Raya,

Raya pintada,

Raya redonda de estero,

Tembladera,

Maid,

Round stingray,

Yellow spotted stingray,

Yellow stingray,

Yellowspotted stingray
Short Description
Edge of disk no sharp angles, no dorsal fin. Well-developed caudal fin extends around tip of tail, doubly serrate spine near caudal fin base
[17659]
. Disk yellowish, with dark vermiculations and spots that form a variety of patterns on upper surface
[17658]
. Lower surface is yellowish, greenish or brownish white, tail with dark spots
[199]
.
Distribution
Western Atlantic: North Carolina, USA to northern South America. Also in Bahamas, Yucatan and throughout Caribbean
[17659]
. Source:
www.gbif.org
Human uses
aquarium: public aquariums
Biology
Male grasps disc margin of female, swings under her and inserts a clasper. Mating pair is surrounded by other males that swim around and nudge them. Dugger (1987) (Ref.
51118
) observed both male and female biting the pectoral fin of its mate (Ref.
49562
). Commonly found along sandy beaches to the water"quot;s edge, and especially in sandy areas in and around coral reefs; in mangrove and seagrass habitats (Ref.
42268
). Raises front end of disc to attract prey seeking shelter. Feeds on shrimps, small fishes, clams, and worms (Ref.
42268
). Carnivore (Ref.
57616
).
Size / Weight / Age
76.0 cm TL (male/unsexed; (Ref.
9710
))
Habitat
reef-associated; marine; depth range 1 - 25 m (Ref.
9710
)
Remarks
shark-references Species-ID=7397;
Parasites (arranged by Jürgen Pollerspöck)
Monogenea
Cestoda
Hirudinea
Branchellion torpedinis Savigny, 1822 [17249]