NCBI GenBank
Paratrygon aiereba
(Müller & Henle, 1841)
Discus ray
Classification:
Elasmobranchii Myliobatiformes Potamotrygonidae
Reference of the original description
Systematische Beschreibung der Plagiostomen.
Berlin, Veit, pp. 1–200
Image of the original description
No image in first description.
Synonyms / new combinations and misspellings
Dasyatis orbicularis, Disceus strongylopterus, Disceus thayeri, Elipesurus strogylopterus, Ellipesurus strongylopterus, Paratrygon aireba, Paratrygon ajereba, Paratrygon cf. aiereba, Paratrygon strongylopterus, Potamotrygon orbicularis, Raia sloani, Raja orbicularis, Trygon aiereba, Trygon orbicularis, Trygon strogylopterus, Trygon strongyloptera, Trygon strongylopterus, Trygon (Paratrygon) aiereba
Description :



Citation:

Paratrygon aiereba

(Müller & Henle, 1841): In: Database of modern sharks, rays and chimaeras, www.shark-references.com, World Wide Web electronic publication, Version 03/2023

Please send your images of
"Paratrygon aiereba"
to
info@shark-references.com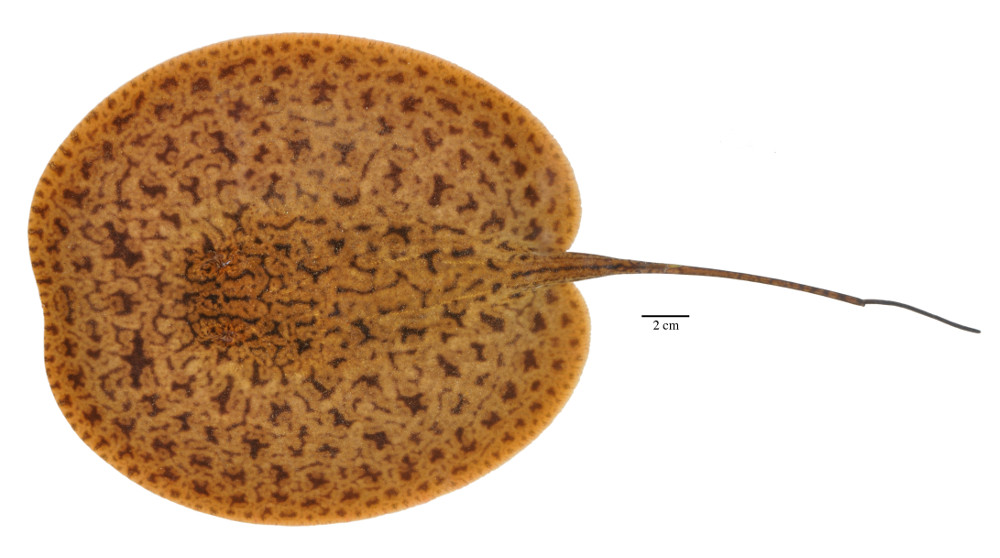 Paratrygon aiereba
, INPA 40507, field no. iXIN13-EXP1-24 Brazil: Pará: rio Xingu, deep channel along right bank of river ca. 38 km southeast of Vitória do Xingu. 3°5'32.39''S, 51°44'14.1''W, 21 Sep 2013; © Mark Sabaj Pérez (iXingu Project, NSF DEB-1257813)
Common names

Raya,

Discus ray,

Arraia,

Raia
Distribution
South America: Amazon River basin (Ucayali, Solimões, Amazon, Negro, Branco, Madeira and its affluents in Bolivia, and Tocantins River) and Orinoco basin. First record: 2013: Bita River, Orinoco Basin of Colombia
[18096]
; Source:
www.gbif.org
Biology
Feeds on fish, benthic organisms, plants and detritus
[7721]
.
Size / Weight / Age
80.0 cm WD (male/unsexed; (Ref.
36687
)); 78 cm WD (female); max. published weight: 14.0 kg
[7721]
; max. published weight: 25 kg
Habitat
demersal; freshwater
Remarks
shark-references Species-ID=4728; CITES: (
see: Protected Species for more details
) Convention on International Trade in Endangered Speciesof Wild Fauna and Flora annex: III; Council Regulation 2017/160 annex: C
Parasites (arranged by Jürgen Pollerspöck)
Monogenea
Cestoda