NCBI GenBank
Potamotrygon orbignyi
(Castelnau, 1855)
Smooth back river stingray
Classification:
Elasmobranchii Myliobatiformes Potamotrygonidae
Reference of the original description
Poissons.
In Animaux nouveaux or rares recueillis pendant l'expédition dans les parties centrales de l'Amérique du Sud, de Rio de Janeiro a Lima, et de Lima au Para; exécutée par ordre du gouvernement Français pendant les années 1843 a 1847 ... Part 7, Zoology, 2: i–xii + 1–112, Pls. 1–50.
Synonyms / new combinations and misspellings
Ellipesurus orbignyi, Ellipesurus reticulatus, Potamotrygon cf. dumerilii, Potamotrygon cf. orbignyi, Potamotrygon dumerili, Potamotrygon dumerilii, Potamotrygon reticulata, Potamotrygon reticulatus, Taeniura dumerili, Taeniura orbignyi, Trygon d'orbignyi, Trygon dorbignyi, Trygon dumerilii, Trygon orbignyi, Trygon reticulatus, Trygon (Taeniura) d'orbignyi, Trygon (Taeniura) dumerilii, Trygon (Taeniura) orbignyi
Types
Potamotrygon orbignyi
Holotype:
MNHN
:
2333
;
Trygon reticulatus
Holotype:
BMNH
: 1870.3.10.1
Trygon (Taeniura) dumerilii
Holotype:
MNHN
:
2367
;
Description :



Citation:

Potamotrygon orbignyi

(Castelnau, 1855): In: Database of modern sharks, rays and chimaeras, www.shark-references.com, World Wide Web electronic publication, Version 03/2023

Please send your images of
"Potamotrygon orbignyi"
to
info@shark-references.com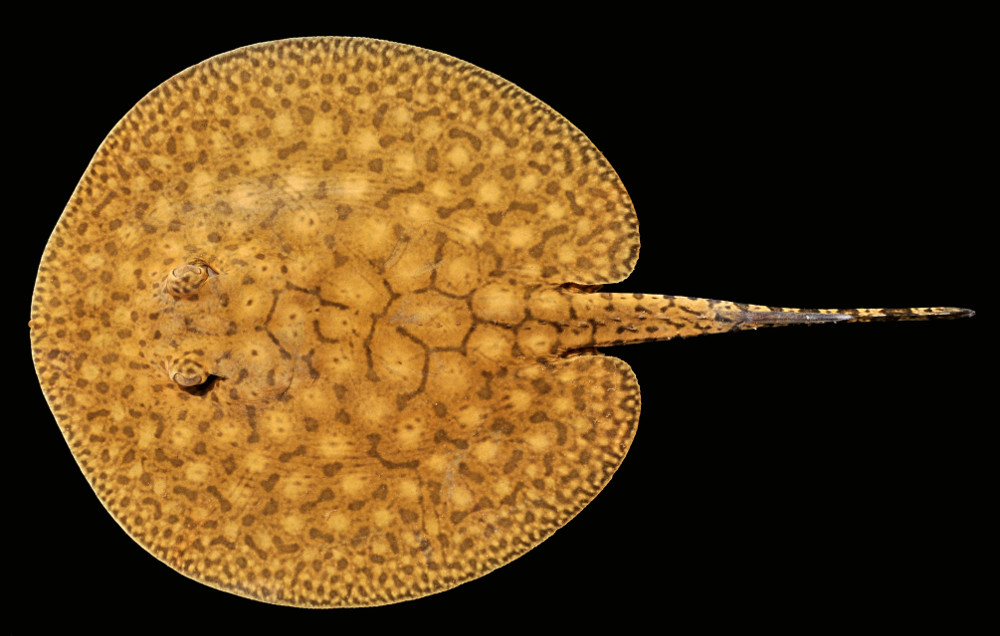 Potamotrygon orbignyi
, ANSP 199581, 145 mm MDW, field no. BR12-03 Brazil: Pará: rio Xingu, sand beach in eastern braid of river, ca. 44 km south-southwest Altamira. 3°36'29.3''S, 52°20'57.2''W, 8 Oct 2012, M. Sabaj et al.; © Mark Sabaj Pérez (iXingu Project, NSF DEB-1257813)
Common names

Genetzer Süßwasserrochen,

Raya dulceacuícola,

Laraie rivière,

Anglespot river stingray,

Roughback river stingray,

Smooth back river stingray,

Arraia,

Raia
Distribution
South America: Widespread in Amazon and Orinoco River basins and in river systems in Suriname, Guyana and French Guiana. Source:
www.gbif.org
Biology
Also feeds on plants
[7721]
.
Size / Weight / Age
35.0 cm WD (male/unsexed;
[7721]
); 32.5 cm WD (female); max. published weight: 1,400 g
[7721]
; max. published weight: 2,000.0 g
Habitat
benthopelagic; freshwater; pH range: 6.8 - 7.5
Remarks
shark-references Species-ID=4960; CITES: (
see: Protected Species for more details
) Convention on International Trade in Endangered Speciesof Wild Fauna and Flora annex: III; Council Regulation 2017/160 annex: C
Parasites (arranged by Jürgen Pollerspöck)
Monogenea
Potamotrygonocotyle rionegrense Domingues, Pancera & Marques, 2007 [14308]
Cestoda
Copepoda
Ergasilus trygonophilus Domingues & Marques, 2010 [14716]
Actinopterygii
Vandellia beccarii Di Caporiacco, 1935 [23228]